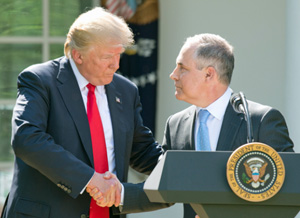 EPA Administrator Scott Pruitt is the latest Trump Cabinet official to leave office, after his resignation was accepted Thursday by President Donald Trump.
"Within the Agency Scott has done an outstanding job, and I will always be thankful to him for this," the president tweeted. 
Pruitt has been under fire in recent months over a series of controversies fabricated by those who worship the power of regulation as a way to limit freedom.
Famous Leftists and anti-Americans like George Soros and California's Pot Smoking Democratic Gov. Jerry Brown referred to him as "Outlaw Pruitt" which is ironic given California's criminal failure to follow Federal law and its disintegration as a civil society.
Speaking of the lack of civility; this idiotic frequent protester verbally accosted Pruitt at lunch.
Tulsa Today wishes the best for Scott Pruitt and his family which he mentioned in his resignation letter to President Trump as suffering from the public abuse.
Coherent Conservatives know the great work Pruitt has done at the EPA and the rage of Leftists document how truly effective he was on the job.