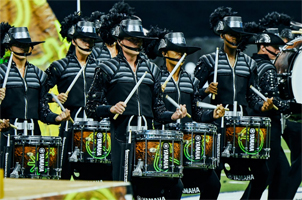 Drum Corps International (DCI) will be in Broken Arrow for the Tour of Champions – Oklahoma on Tuesday, July 17 at Broken Arrow Memorial Stadium.
The show is presented by Drums of Summer and is part of the 2018 Summer Tour that includes 109 shows in 37 states with 47 drum corps on the road to World Championship Finals in Indianapolis August 11.
Tour of Champions – Oklahoma will be a jam-packed extravaganza of fierce competition among seven of the highest-ranking corps.
Those participating will be Blue Devils of Concord, Calif.; Bluecoats of Canton, Ohio.; Blue Knights of Denver, Colo.; Boston Crusaders of Boston, Mass; The Cavaliers of Rosemont, Ill.; Phantom Regiment of Rockford, Ill.; and Santa Clara Vangaurd of Santa Clara, Calif.
The corps will warm up in the parking lots before entering the stadium and taking the field to perform.
Every marching band member and their parents from every Oklahoma school should experience this show.
These are the young men and women who typically rise before dawn to practice for perfection in group, but that is only the beginning. They practice in class and at home to memorize music and hone skills for audiences throughout the nation.  They are athletes, dancers, and skilled musicians.
The music will inspire. The moving patterns will amaze. These are young people with the discipline and desire to compete at the highest level.
The best of the best are featured this night in Broken Arrow, Oklahoma.
Drum Corps International is the world leader in producing and sanctioning competitive events for the world's most elite and exclusive touring marching music ensembles for student musicians and performers.
For additional organization and program information, visit http://www.dcu.org.