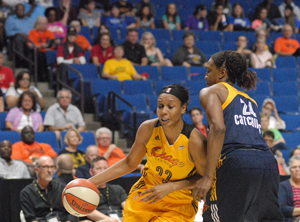 TULSA, OK—The bittersweet saga of the Tulsa Shock has a new and somewhat bizarre twist as for the first time in the six years in Tulsa (and their final year in Oklahoma) they will make the WNBA Playoffs.
They accomplished the feat by winning five straight, extending the Tulsa era record to 14.
The two wins this weekend boosting the Shock over the top and into the WNBA's big dance were victories over the Los Angeles Sparks and the Indiana Fever – by all measure significant wins.