Hunters have until Thursday May 15, 2014, to apply for the Wildlife Department's controlled hunting opportunities for 2014-15. All applications must be submitted at wildlifedepartment.com.
The Controlled Hunts Program offers a variety of highly desirable hunts through random drawings. Controlled hunting opportunities offered through this program include hunts on Department- or government-owned or managed lands where unrestricted hunting would pose safety concerns or where overharvest might occur.

"Sportsmen have over 120 different quality hunts to choose from including elk, antelope, deer and turkey hunts," said Melinda Sturgess-Streich, assistant director of administration for the Wildlife Department. "Thirty-two of these hunts are designed specifically for youths ages 14 and 15."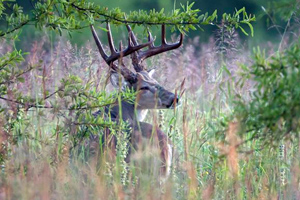 All applicants, including lifetime license holders, must pay a $5 application fee to enter the drawing for controlled hunts. The fee is paid only once per person per year, regardless of the number of hunt categories entered.
"Every year that you apply, you earn preference points that increase your chances to be drawn for a once-in-a-lifetime hunting opportunity," Sturgess-Streich said. "It takes just a few minutes to apply online through a secure application process at www.wildlifedepartment.com."
Hunts are offered in seven categories: deer hunts, elk hunts, antelope hunts, deer hunts for youths, deer hunts for people with non-ambulatory or motor vehicle hunting permits, spring turkey hunts and spring turkey hunts for youths.
For complete application instructions, including tips on enhancing your chances of being selected, and a complete list of available hunts, visit wildlifedepartment.com and look for the "Controlled Hunts" link on the home page.
"You don't want to miss out on these hunting opportunities, so mark your calendars to apply before the deadline of May 15," Sturgess-Streich said.