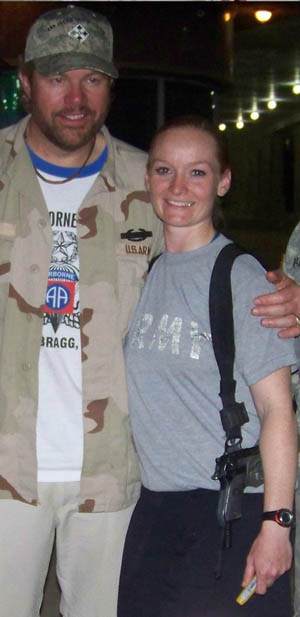 Specialist Kisha Makerney is an inspiration and a surprise.  An unassuming woman with an amazing story of personal triumph against personal tragedy, Kisha's life defines honor and courage.
Specialist Makerney was raised in the small southern town of Ft. Towson, Oklahoma to a large family full of life and laughter.  As a child, Kisha wanted to be in the Army and at age 17, the dream became a reality.
"My dad asked me what I wanted to do when I grew up. I told him I wanted to join the Army!  It was all I lived and breathed while I was growing up."
"I was working at Sonic and I saw a recruiter so I told him I wanted to join.  Originally, my goal was to join the Army National Guard, go to college on the National Guard Tuition Assistance Program and become an officer.  I then planned to join the [Active Duty] Army."
Over the past few years, Kisha's plans have changed slightly.  She still plans to finish college and go full-time Army.  Only now, she plans to lead from the front.  "Now I want a career in the regular Army as a Non-Commissioned Officer (NCO)."
"No One Is More Professional Than I" – The NCO Creed
This isn't Kisha's first time to Iraq.  She was here from February 2004 to March 2005 with the 120th Engineers out of Oklahoma.
Now she finds herself back in Baghdad.  This time she is serving as an instructor for the Iraqi Correctional Officer Academy.  She trains Iraqi citizens to become correctional officers in order to, one day, assume control of the detainee operations from the Americans.
"I help train the NCO course.  We teach them basic leadership principles and effective styles of leadership.  We train them to the same standard American soldiers are trained to."  She continues, "They learn about human rights, effective communication skills and how to make sound decisions.  We teach them to lead the other Iraqi Correctional Officers."  She adds, "I'm also a Combatives Instructor (the Army standard for hand-to-hand combat)."
Kisha notes the conditions here in Iraq have changed significantly since she was last here. "Last time [I was here] you never knew what was going to happen.  Compared to [what it was like] then, things are much better." She adds, "I wish people back home knew that."
Kisha is serving here at Camp Cropper with her younger brother, Tommy.  She also has a cousin, Keith, serving in southern Iraq at Camp Bucca.  A huge smile spreads across her face as she talks about her family, and rightly so.  They've all been through a lot together.
"I Love them and miss them." She confides, "They believed in me and gave me tough love when I needed it. They helped make me who I am."
I asked Kisha's brother, Tommy, about his sister.  "She's brave and she's tough." he said.  "She volunteered for this mission… I don't think I could do the things she does."
Things Changed Back Home …
Kisha returned from her first deployment and resumed the pursuit of her goals.  However, June 24th 2005 at 5:00 PM, things changed…
"I was going about 60 miles-per-hour on my motorcycle when the front tire blew out."
At that speed there wasn't much she could do.  She fought to maintain control but the motorcycle swerved and veered.  In a split-second she found herself hurled between two road signs.  The reinforced motorcycle jacket she wore absorbed the impact as her shoulder collided into the sign.  Her left leg struck the same sign and was instantly severed below the knee.  Her momentum continued her airborne travel off the road and down into a ditch as the motorcycle was hurtled further forward into heavily wooded foliage.  When everything slowed to a stop, Kisha found herself bruised and battered with a severed leg.  She was down in a ditch, completely obscured from the road.  No one would see her.  No one would hear her.  It was just her, her will to live, and the Hand of God.
Kisha found her inner strength and "Low-Crawled" out of the ditch and back towards the road.  Along the way she found her cell phone and paused to try and make a call – it was broken.  She continued to crawl to the roadside where she applied immediate first aid and treated herself for shock.  In the midst of this traumatic moment, she managed to wave down a passing car.
Fort Towson is a small town and word travels quickly.  Instantly, word had spread, and her family was notified.  Within minutes, they were by Kisha's side at the accident scene waiting for ambulance to arrive.
The ambulance took Kisha to a nearby hospital where she was then Air evac'd to Dallas.  She went through extensive surgery, however, her leg could not be saved.
When she awoke from surgery, she found she was not alone.  Her family, close friends and comrades from the 120th Combat Engineers had dropped everything and made the 5-hour drive to the Dallas hospital to be by her side.
I Can Do All Things…

After the accident, Kisha was faced with a difficult road to recovery.  Additional surgeries, physical therapy coupled with the pain and emotional trauma associated with the loss of her leg.  She would have to adapt and, in time, learn how to walk again.  To add to her daunting task, Kisha added another obstacle—she wanted to remain in the Army.  She refused to let this event prevent her from achieving her dream.
"Physically, it was very hard but everybody was great!  They all believed in me.  Nobody ever doubted me."  She explains, "I had to perform my job and meet Army Standards."  She adds, "My battle buddies from the 120th Engineers were the best and my battle buddies from the 45th ROC are awesome!"
"If I could tell anybody anything, I want people to know that if they really believe, they can do anything they want to."
She confides, "It's all about God.  I would not be here without Him.  Without Him I would have given up back when I was laying in the hospital bed."  She beams with enlightenment. "It really is all about Him."
As we concluded our interview I found myself wrapped in amazement and wonder at her incredible testimony.  Surely if there was ever a living example of what "inspiration" means, Kisha is it.  Her life is a testimony to the passage of scripture found in Philippians 4:13 which says: "I can do all things through Christ who strengthens me."
Yes, Kisha.  You Can.
---
About the Author:
SFC Erik Wolf reports from Camp Cropper, Iraq for Tulsa Today and on this story also served as photographer.