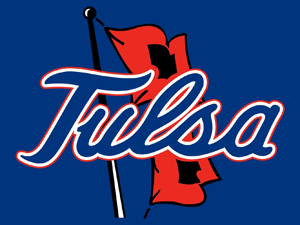 BOCA RATON, FL—It was a bad night for the Golden Hurricane. It took just eight minutes for Florida Atlantic to hang 17 points on TU in their first road trip of the 2014 season, and it was a deficit that they could not recoup as the Owls rolled to a 50-21 victory. It was the second straight loss for TU and the second week in a row that they allowed 50 points or more.
TU quarterback Dane Evans gave up two interceptions in the first half, one that was returned for a touchdown and another that killed a Golden Hurricane drive on the FAU four yard line.
That coupled with three first-half FAU offensive plays covering over 50 yards, including two for touchdowns, doomed the Golden Hurricane in a first half that saw the home team up 33-7 at the break. The Owls put up 518 yards in the game, with 341 through the air and 177 on the ground. FAU's Jaquez Johnson went 15-for-20 passing for 318 yards and three touchdowns, adding another 18 on the ground and a rushing TD.
Evans finished the day for Tulsa with 269 yards and one touchdown on 24-of-49 passing, and Zach Langer and John Flanders both ran for 48 yards each. TU came out of the locker room after halftime and scored, with Mandel Dixon trotting three-yards for a score, but that was quickly answered by FAU on the ensuing possession when they drove 76 yards in a nine-play drive on their subsequent possession as Johnson ran in from five yards out for the touchdown and a 40-14 lead.
The rout was on at that point. The Owls added three points on a 41-yard field goal to extend the lead to 43-14. Tack on another TD when Greg Hankerson connected on a nine yard lob to Derek Moise to put the final points on the board for FAU.
The home side dominated in both halves of Saturday's game despite TU's best efforts, but it wasn't as if the Golden Hurricane didn't have their moments. On their opening possession FAU drove 75 yards, most of that coming on a 59-yard pass on third down that took them to the TU six-yard line. The Hurricane defense held and the Owls had to settle for a field goal.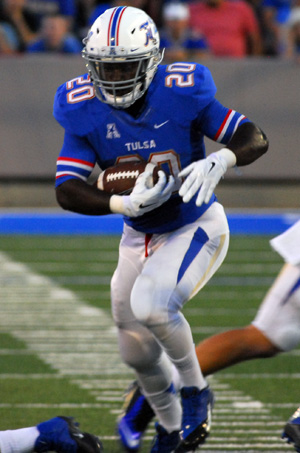 TU put their first point on the board at the 10:35 mark of the second quarter when Evans drove the Golden Hurricane 89 yards in 10 plays and connected on a nine-yard pass to Connor Floyd in the FAU end zone. Evans hit his two favorite targets in the drive with key passes, a 23-yarder to Keyarris Garrett and a 33-yard strike to Keevan Lucas to put them in position to score.
The miscues by TU overwhelmed their successes, however, and in addition to the two picks thrown by Evans he gave the Owls a safety when he picked up an intentional grounding flag with 2:37 to go.
The Golden Hurricane has an open date next Saturday, and they will return home to face Texas State on September 27th in H.A. Chapman Stadium on the University of Tulsa campus.