Opinion:  Local Leftist Loons always complain when I write about Marxism.  They say in ridicule that no one today is a Marxist, Communist, or Soviet. Those are gone to the "dustbin of history" so they say. They lie. "May Day" is celebrated by Marxists around the world in violent protests including in NYC, Paris, Zurich and Berlin. They even partied in Tulsa, but quietly. 
Covering the carnage Breitbart.com reports, "Left-wing activists and Marxist governments participated in May Day on Tuesday, a day many claim as an attempt to promote the rights of the ordinary worker.
"Traditionally an ancient northern hemisphere spring festival, May Day was co-opted by 20th-century communists as "International Workers' Day" to commemorate the 1886 Haymarket riots in Chicago that saw dozens of laborers killed and injured by police while demonstrating for employment rights.
"Governments and trade unions today use the event as an opportunity to demand higher wages and employment benefits. Communist nations used the holiday to promote their own elite." Click here for more from Breitbart.com.
Tulsa Today did not find evidence that America's First Islamic Communist President, Barack Hussein Obama participated, but we continue to hope he will exit his closet of confidentiality in a future life of greater honor.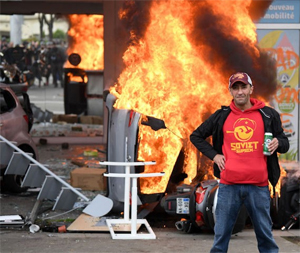 We do note two things both Islam and Marxism have in common is the destruction of the United States of America and doctrinal encouragement with specific support to deceive.
Again for the Local Leftist Loons who declare Communism and Marxism is not a threat to freedom or free people in 2018, please note the hoodie shown in the photo on the right promoting Soviet government during this year's May Day riot.  That photo with specific reports of damage worldwide can be found on Breitbart.com here.