Zoës Kitchen, a popular, Mediterranean-inspired, fast-casual restaurant featuring fresh, savory dishes, is opening its first location in Oklahoma. Zoës new restaurant is in Tulsa and marks the company's 77th location reaching 13 states. Founded in 1995, in Birmingham, Alabama, Zoës features quality ingredients, family recipes and wholesome menu items that are made-from-scratch daily.
Zoës is one of the fastest growing fast casual restaurant concepts in the nation. The new Zoës is located at 3629 S. Peoria Avenue.

"We are excited to open our Zoës in Tulsa and are eager to be part of the community," said James Chang, regional operator of Zoës Kitchen in Tulsa. "We are thrilled to be a part of the local area and are ready to share our southern hospitality and made from scratch family recipes with everyone!"
To celebrate its opening in Tulsa, Zoës is giving away 500 meals to its Facebook fans. To top it off, one grand prize winner will win Zoës for a year at the new store! Visit Zoës Kitchen's Facebook page at www.Facebook.com/ZoesKitchen to enter to win. The contest runs from January 9 through January 28. The Grand Prize winner will be announced on Zoës Facebook page on January 28.
The new Tulsa restaurant includes the flavorful favorites that have made Zoës an extension of many home kitchens. The menu will also showcase delicious entrees as well as fresh sides such as no-mayo slaw and potato salads and braised white beans with fresh rosemary, among others.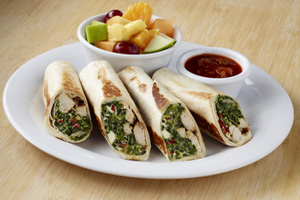 The Tulsa restaurant offers guests a selection of signature dishes such as chicken kabobs, chicken rollups and hummus and gluten-free options. As always, the focus will be on serving food of exceptional quality and using fresh ingredients prepared daily from original recipes; perfect for busy people who want to eat well with a little help from a friendly, neighborhood kitchen. Fresh is the focus, and unlike most restaurant kitchens, there are no fryers or microwaves at Zoës.
At Zoës, guests can dine in, order online or call ahead for takeout; purchase a variety of fully-prepared Dinners for Four for the hungry family on the go; pick up side dishes by the pint; and take advantage of an extensive catering menu, which includes box lunches, party trays and meals for large groups that can be delivered locally.
Zoës' Tulsa location seats approximately 104 guests in the dining room, including an outdoor patio which seats 36. The restaurant opens from 11 a.m. to 9 p.m. daily.