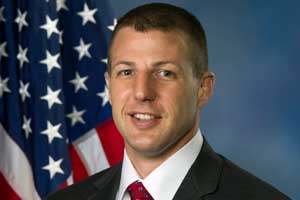 On Monday, March 4th 2013 Congressman Markwayne Mullin (OK-02) delivered the following speech on the floor of the United States House of Representatives. 

"Mr. Speaker, I come before you today not as a Republican or a Democrat but an American committed to the U.S. Constitution.  I regularly hear from constituents – regardless of party affiliation – who are fed up with the partisan fighting.  We pledge allegiance to the United States of America, not our political parties.
In President George Washington's Farewell Address, he said, "With slight shades of difference, you have the same religion, manners, habits, and political principles.  You have in a common cause fought and triumphed together.  The independence and liberty you possess are the work of joint
councils and joint efforts of common dangers, sufferings, and successes."
Washington was right.  We are all united by common bonds – although we have our differences, we are more alike than we are different.
In his Address, Washington was not speaking to one party alone, but to all people of the young Republic.  If we don't start putting the country first and partisanship last, we are going to ruin the country our fathers founded.
It is no secret that we are facing difficult decisions, but I am committed to working with any member regardless of party to roll up our sleeves and get to work."