Oklahoma Republican Party Chairman Matt Pinnell today announced that he would conclude his accomplished service as Chairman when his current term ends, April 20th.
Under Pinnell's leadership, Republicans now hold all statewide elected offices, all congressional seats, and have majorities in both houses of the state legislature–a first in state history.
"I've completed three tours of duty with the OKGOP and I'm extremely proud of our results. The next Chairman will inherit a well-oiled machine with solid fundraising totals and a record number of Republican elected officials and voter registrations. I've accomplished what I set out to do and look forward to helping a new Chairman in any way I can," said Pinnell.
"In the immediate future, I am looking forward to spending more time with my growing family while I evaluate a number of opportunities in the public and private sectors."
Appointed in 2010 as the "Chairman of the State Chairmen" by Republican National Committee Chairman Reince Preibus, Matt has been directing the sharing of ideas and best practices among the nation's state Republican leaders.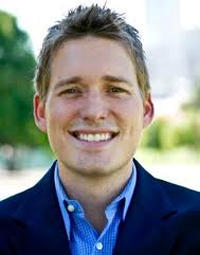 Additionally in 2010, Pinnell oversaw the most successful election cycle for Oklahoma Republicans in state history – sweeping all eight statewide races and expanding majorities in both the state House and Senate.
In 2012, the Oklahoma Republican Party continued to see great success under Pinnell's leadership. Oklahoma–again–won all 77 counties for Republican Presidential nominee Mitt Romney, and swept all 5 Congressional seats for only the second time in state history. Furthermore, Republican voter registration is at an all-time high.
Pinnell also launched innovative outreach programs while Chairman, including OKGOP U, a training program for county GOP clubs, and Emerge46, a youth outreach program tasked to grow college and young Republican organizations. Until recently, Pinnell was the youngest State Chairman in the country.
Matt will continue to reside in Tulsa with his wife Lisa and their three children.