House Republican Policy Committee Chairman James Lankford (R-OK) issued the following statement about continued obstruction to building the Keystone XL pipeline even after initial environmental impact concerns were alleviated in a recent draft State Department environmental report.
"Fortunately for people in my state of Oklahoma and states around us, the Administration is running out of excuses to continue delaying the Keystone XL pipeline," said Lankford.
The last major pipeline from Canada took 27 months to approve by the Obama Administration State Department. So far, the Keystone XL pipeline has consumed 53 months in permitting and administration delays.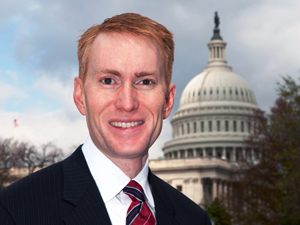 "This job-creating project is vital to improving the employment situation for many communities throughout the Midwest and continuing our progress toward North American energy independence," continued Lankford. "It is inconceivable that President Obama continues to drag his feet even after Nebraska Governor Dave Heineman indicated his state reached an agreement with TransCanada regarding the location of the pipeline within Nebraska, a key point of contention for environmentalists.
"Additionally, in the draft report issued by the Obama Administration's own State Department officials, there was a conspicuous lack of evidence suggesting the pipeline would pose an environmental risk. The troubling part of this phase of the process is that it was during the previous 'national interest' deliberation the 2008 Keystone application was denied before."


After the release of the State Department's Draft Environmental Impact Statement, there will be a 45-day comment period, after which the State Department will release a Final Environmental Impact Statement. The State Department will then consider whether the project is "in the national interest," in part based on the findings of the Environmental Impact Statement.
"It is time for the Administration to approve the pipeline construction and allow American workers to get to work building our critical energy infrastructure," continued Lankford.
"In the coming months, as the State Department consults with the Departments of Defense, Justice, Interior, Commerce, Transportation, Energy, Homeland Security and the Environmental Protection Agency, I hope the Obama Administration will finally admit what everyone else already sees. The Administration continues to search for any justification to delay or deny this pipeline which is clearly good for American jobs and the long-term American economy," concluded Lankford.