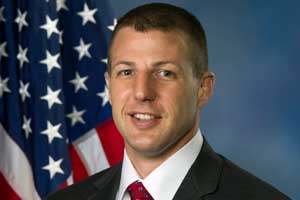 U.S. Rep. Markwayne Mullin (OK-2) announced today, March 13, he is encouraging citizens to make public comments on the Keystone XL project before April 22.
"The details on public comment are available on the State Department's web site, but that can be difficult to navigate. We wanted to make it easy for people to find the email and physical addresses to which comments should be submitted," Mullin said.
"We hope that people will take time during the comment period to make their views on the pipeline project known. Here in Oklahoma, we are seeing the tremendous economic impact this project is having in our state," he added.
The Keystone XL project is a pipeline that will transport crude oil from Canada and the Bakken Shale Formation in Montana to refineries on the Gulf Coast. Work is already underway to construct the pipeline through parts of Oklahoma but the project's final approval for the northern section has lagged. The State Department's review of the project indicated that the pipeline can be built with no significant damage to the environment
The draft environmental impact statement is a lengthy document that most citizens likely do not have time to read or study. The online executive summary is over 20 pages, and buried in the online summary is the address to where people can send comments by mail. Mullin said that mailing address can be very difficult for some people to locate and therefore they may not get the opportunity to let their voice be heard.
In Oklahoma alone, construction of the project's three pipeline spreads from Cushing to the Gulf Coast is resulting in per spread monthly spending of approximately $2 million in construction costs and employing around 1000 people. Additional revenues from housing and other expenditures by pipeline workers is a definite bonus for Oklahoma, Mullin said.
"People need to speak up. That is the great part about our government – that it seeks the public's opinion. However it is the public's responsibility to get involved and send in their comments during this limited comment period."
Congressman Mullin has already called on President Obama to approve the northern section of the pipeline to boost the nation's economy.
"This project has been delayed far too long while Americans have struggled with rising gas prices and a sluggish economy," Mullin said. "New jobs and an economic boost for America are within the president's grasp. It is time for him to finally approve this project and reduce our nation's dependency on oil from foreign sources."
Mailing address for public comments:
U.S. Department of State
Attn: Genevieve Walker, NEPA Coordinator
2201 C Street NW
Room 2726
Washington, D.C. 20520 
Links to both the executive summary of the report and the comment addresses are also available on his website:  www.mullin.house.gov.