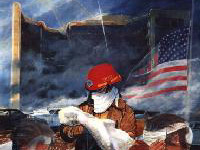 Governor Mary Fallin today released the following statement on the 18th anniversary of bombing of the Alfred P. Murrah Federal Building in Oklahoma City.
"On this day 18 years ago, our [capital] city was forever changed when 168 lives were taken from us in the bombing of the Oklahoma City federal building.  Today, we remember those who were lost, and offer support to the survivors and the families left behind.  We also honor the heroic efforts of the emergency responders, firefighters and law enforcement personnel who worked tirelessly to recover survivors.
"In the days after the bombing, our city came together in a display of strength, unity and resiliency that would later become known as the 'Oklahoma standard.' That same spirit has allowed our city to overcome this tragedy and emerge stronger than ever.
"Our hearts also are burdened today as we grieve for the victims of the bombing attacks in Boston. Oklahoma City knows all too well the pain Boston is experiencing, and we continue to offer our prayers for the victims and their families. Oklahomans – just like all Americans – are a resilient and tough people.  We have full confidence that our friends in Boston will emerge from this terrible tragedy stronger."