Saturday, May 18, 2013 marks the 26th annual Full Moon 5k Run/Walk and 1‐mile family fun run. The Full Moon Run is hosted by the Full Moon Café and will benefit River Parks Authority.
The race is scheduled for Saturday, May 18, 2013 at Veterans Park located at 21st and Boulder. Activities for this family event will begin at 6 p.m. featuring live music, a free "Kid's Zone" and a variety of food and beverages. The Full Moon 5k Run is the largest night run in the state of Oklahoma and has established itself as a community‐wide event for the Northeast Oklahoma region. More than 2,500 participants are expected for this year's event. The race is USATF sanctioned and certified and features a 5k Race/Walk and a 1‐mile family fun run along the Arkansas River.


Registration is now open and available online at http://www.riverparks.org/fullmoonrun. Online registration closes at midnight on Sunday, May 12.
Participants may also register in person starting Tuesday, May 7 through May 17 at the Full Moon Café (1525 East 15th Street) or at either Fleet Feet Sports Tulsa locations: KingsPoint Village (6022 South Yale Avenue) or Blue Dome (418 E. 2nd Street). Registration begins at 10 a.m. and closes at 7 p.m.  Race day registration will take place at Veterans Park from 6 p.m. to 7 p.m.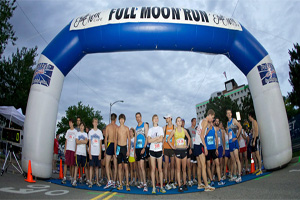 Net proceeds from the event are contributed toward operations and capital improvements at River Parks. The Full Moon Run donated $25,000 to River Parks in 2012 with a cumulative donation of more than $80,000 over the past decade. Proceeds from this year's event will help purchase signage and markings for the new trail system.