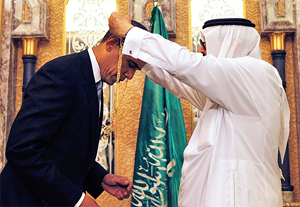 Steven Emerson writing for Breitbart.com has a stunning summary with links of the Obama Administration's efforts to promote Islamic views.  Emerson writes:
The Obama administration has an infamous history of questionable Islamist outreach. These outreach efforts have been engaged by the highest levels of the Department of Justice (DOJ), resulting in decisions affecting potential prosecutions of Islamist leaders and closing ranks with other Islamist leaders in the name of civil rights enforcement.


More recently, a U.S. Attorney in Tennessee suggested that anti-Muslim inflammatory Internet postings might rise to the level of violating federal civil rights statutes. This caused an uproar of concern that such biased outreach may cross a line encroaching on First Amendment protected free speech.
Thanks to the revelation of an innocuous contract solicitation by the U.S. Department of Education, we know President Obama takes a direct interest in these outreach programs. On April 29, the Department of Education posted a solicitation bid titled "White House Initiative on Asian Americans and Pacific Islanders Annual Report."