Ken Hoagland, Chairman of Restore America's Voice, Friday released the following statement along with an announcement that Restore America's Voice would join the Tea Party Patriots at their "Audit the IRS Rally" on June 19th. Hoagland will be joining speakers such as Senators Mike Lee and Rand Paul to protest the Obama Administration's abuse of the IRS and demand action.
"This administration is starting to make Richard Nixon's worst days look good by comparison. The outrageous treatment of law abiding citizens for Barack Obama's political gain cannot go unanswered. And at this point, to suggest an internal investigation is just laughable. The IRS must be subjected to a full review by a special prosecutor.
"Unlike the thousands of innocent Americans affected by this scandal, these IRS agents actually deserve to be looked at under a microscope. Any guilty parties need to be held accountable to the full extent of the law – even if that goes to the highest levels, Hoagland said.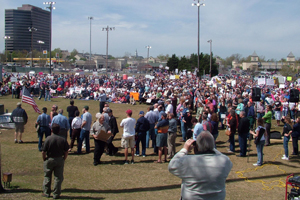 "Americans should not live in fear of their own government. Unfortunately, this is the very real 'transformation' that President Obama has brought about. Join us to send a message to Congress that this must stop without delay. If we don't hold our government accountable, we will lose America forever," Hoagland added.
For more information about the Audit the IRS Rally on June 19, 2013, click here.
For more information about Restore America's Voice Foundation, click here.