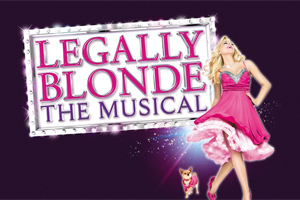 Theatre Tulsa has announced the audition date for the first production of its 91st season, "Legally Blonde: The Musical."
Auditions will be held Sunday, July 28, at 1 pm at Christ's Church Episcopal, 10901 S. Yale.  Roles are available for all lead and supporting characters, plus several ensemble singers and dancers.
The show requires a mix of male and female actors ages 18 and up. Older teenagers who can play 18 are also welcome to audition.


The auditions will consist of singing at 1 pm. The dance call is at 3 pm.
Rehearsals begin Aug. 5th and the show plays Sept. 20th-29th at The Tulsa PAC.
Theatre's Tulsa production of "Legally Blonde: The Musical" will be the first time this show has been locally produced in Tulsa. The show will be directed and choreographed by Sara Phoenix.
The musical, based on a novel that was later adapted into a hit motion picture starring Reese Witherspoon, was a popular addition to the 2007 Broadway season. The show was also a commercial and critical success in London's West End, and has since been performed internationally.
For more information about the audition, click here to reach www.theatretulsa.org/audition.  For any additional questions, call 918-587-8402 or email info@theatretulsa.org
Theatre Tulsa is the longest continuously-operating community theatre west of the Mississippi River, and the seventh oldest in the United States.   Since 1922, Theatre Tulsa has been a part of the culture of Tulsa. Theatre Tulsa has entertained the community through the Depression, World War II and the disaster of two fires.
Theatre Tulsa has been responsible for bringing hundreds of productions to Tulsans. It premiered the first-ever community theatre productions of "Our Town" (1939), "All My Sons" (1947), the musical "Brownstone" (1985), "Miracle on 34th Street: A Musical  Adaptation" (1993 – an original musical written for Theatre Tulsa), "I Love You, You're Perfect, Now Change" (2003) and the first American production of "Pitmen Painters" (2011).  Visit www.theatretulsa.org for more info.
Theatre Tulsa received the city's first Tulsa Award for Theatre Excellence (TATE) for its production of "Up the Down Staircase" in 2009. The company received additional TATE awards in 2013 for its production of "Boeing-Boeing" and its collaborative youth production of "Hamlet." Theatre Tulsa was named "Oklahoma's Community Theatre of the Year" by the Oklahoma Community Theatre Association in 2011.