WASHINGTON, D.C. — U.S. Sen. James Inhofe, R-Okla., and U.S. Sen. Mary L. Landrieu, D-La., have introduced the Youth Prison Reduction through Opportunities, Mentoring, Intervention, Support, and Education (PROMISE) Act (S.1307) to help prevent juvenile delinquency and criminal street gang activity through evidence-based practices. More than 300 law enforcement groups, community organizations and child welfare experts currently support the bill. U.S. Reps. Bobby Scott (D-VA) and Walter Jones (R-NC) introduced similar legislation in the U.S. House in March.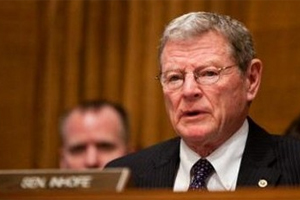 "We must recognize the necessity of putting our nation's youth on the right track early in life, and while it starts with the family, far too often our kids turn elsewhere for their direction and guidance. The Youth PROMISE Act seizes upon evidence-based approaches to keeping this nation's youth away from gangs, drugs, and violence, ultimately giving them a greater chance of leading fulfilling and prosperous lives," Sen. Inhofe said.
"We must act to stop the heartbreaking cycle of violence that traps so many of our young people," Sen. Landrieu said. "Studies show that early childhood programs, summer school programs, mentoring, after-school programs and job-training programs can lead to decreased youth arrests. The Youth PROMISE Act invests in programs like these that we know to be effective, as well as efforts to bring together community members and organizations concerned with the safety and welfare of children."
The Youth PROMISE Act would:
•  Create a new purpose area for the Byrne Criminal Justice Innovation Grant.
•  Fund, implement, and evaluate evidence-based, locally controlled youth and gang violence prevention and intervention practices.
•  Create a PROMISE Advisory Panel of state representatives to aid in assessing community needs and resources, developing and enforcing program evaluation standards and overseeing implementation.
•  Engage a wide range of community stakeholders to serve on local PROMISE Coordinating Councils, which will develop and implement custom PROMISE Plans for their communities.
•  Build on local strengths by partnering with colleges and universities as regional research partners, and establish a National Research Center for Proven Juvenile Justice Practices.
•  Create an average cost benefit of $5 for every $1 investment through the prevention and intervention of juvenile delinquency.