Christian girls in Northern Nigeria are being abducted, kept in the homes of Muslim leaders and forced to renounce their faith.
Professor Daniel Babayi, secretary of the Northern Christian Association of Nigeria (CAN), said that the issue was getting worse and that they are currently pursuing five cases. He said:
Christian girls below the age of 18 are forcefully abducted and made to denounce their faith… They have been kept in the houses of emirs or imams. When we report to the police, they tell you there is nothing they can do. The police have become very helpless. In some instances, they are part of the conspiracy.

Christians in Northern Nigeria are being targeted on a number of fronts as Islamist militant group Boko Haram wages its deadly campaign to establish an Islamic state. Churches have frequently been attacked and individual Christians murdered.
Last year, Boko Haram said it was going to kidnap Christian women as part of "new efforts to strike fear into the Christians of the power of Islam", forcing them to leave the North.
The group is waging its war against various perceived enemies, attacking military and government targets, and recently provoking outrage by killing school students.
Over 40 people, mostly students, were killed in an attack on a boarding school in Yobe state on 6 July. A dormitory was set alight while the children were sleeping; those trying to escape the fire were gunned down.
Last month, 16 students were shot dead in attacks on a secondary school in Yobe and another school in Borno.
Boko Haram means "Western education is sin", and its leader Abubakar Shekau has called for more attacks against schools. He said:
Teachers who teach western education? We will kill them! We will kill them in front of their students, and tell the students to henceforth study the Quran.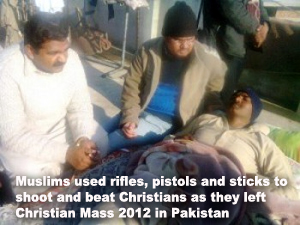 The recent targeting of schools is said to be part of a two-pronged strategy, firstly to destroy Western institutions, and secondly to provide new recruits for the campaign as parents pull their youngsters out of school, fearing for their safety. Boko Haram is recruiting unschooled and unemployed children, sometimes by force.
The Nigerian authorities have been carrying out their biggest offensive to date against the insurgents. A state of emergency has been in force for two months in Borno, Yobe and Adamawa, where the militants pose the greatest threat.
To read more from Barnabas Aid, click here.
To read a previous Tulsa Today story on Christian Children under attack in Nigeria, click here.
To read about recent attacks on Christians in Egypt, click here.