The Tulsa Golden Hurricane football team opens the 2013 home season at H.A. Chapman Stadium Saturday night against the Colorado State Rams of the Mountain West Conference.  The game kicks off at 6:00 pm. Tickets can be purchased online at www.TulsaHurricane.com, in person at the TU Athletic Ticket Office or by calling 918.631.GoTU (4688).
This is the eighth meeting between the two teams, but the first since1998, when the two teams were members of the Western Athletic Conference. Tulsa leads the series 4-3, having posted a 3-0 home record, but the Rams have won the previous two meetings overall.  Both the Hurricane and Rams will be looking for their first win after dropping their season openers last week.
"Colorado State is a well-coached football team, and they have some very impressive players," said Tulsa Head Coach Bill Blankenship. "Wide Receiver (Joe) Hansley is very impressive as a punt returner. Their quarterback (Grayson) was very efficient. We werealso very impressed with their center. (Weston) Richburg is a very good football player."
"Defensively, they are an odd-front personnel team, typically three-down lineman. They get in variouslooks. They have a big guy upfront, (Calvin) Tonga. He is a space-eater, and very physical. We were very impressed with their outside linebacker corps, (Shaquil) Barrett and (Cory) James are both very active," added Blankenship.
Tulsa's offense will look to get on track this week. The Hurricane offense gained only 273 yards a week ago at Bowling Green, and just 51 of those yards on the ground for a unit that ranked ninth nationally last year with 245.7 rushing yards per game.
The Tulsa defense, although young, put in a valiant performance in the season opener, despite getting the short end on field position. Two of Bowling Green scores came on drives of just four and 16 yards.
Both teams have solid weapons on the offensive side of the ball. For the Rams, quarterback Garrett Grayson completed 22-of-39 passes for 201 yards last week with 14 of those passes going to Joe Hansley and Rashard Higgins, totaling 148 yards. JC running back Kapri Bibbs was impressive in his debut with 70 yards and two touchdowns on 15 carries, while starting running back Donnell Alexander averaged 5.1 yards per carry a year ago.
The Rams have also utilized their tight ends effectively in the past and are led by senior Crockett Gilmore and Kivon Cartwright. Those two have combined to catch 95 career passes for1,126 yards and nine TDs.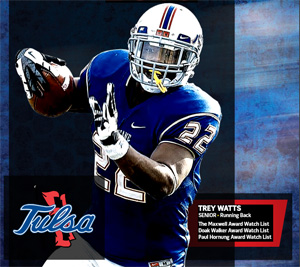 For the Hurricane, senior running backs Trey Watts and Ja'Tarian Douglas have combined to rush for 4,370 career yards. Quarterback Cody Green threw for 2,592 yards and 17 touchdowns in leading Tulsa to an 11-3 record last year and has two of his favorite targets back in 2013. Keyarris Garrett had a team-leading 67 receptions for 845 yards and nine TDs a year ago, while Jordan James caught 41 passes for 568 yards. The two combined for 112 yards on eight catches in the season opener last week.Sophomore Derek Patterson had Tulsa's lone touchdown reception a week ago, covering 27 yards.
"I hope we'll look like we have weapons on offense. We didn't look like we had weapons on offense last week. Hopefully, we'll be able to utilize those guys and that will be the game plan," said Blankenship.
Tulsa's young defense is led by veteran linebacker Shawn Jackson, who enters the game just two sacks andthree tackles for lost yardage short of tying the school record in both categories. In the opener, sophomore safety Michael Mudoh had a game-high 17 tackles, while starting linebackers Mitchell Osborne and Trent Martin had 11 and 10 tackles, respectively.
Whereas Blankenship was disappointed with the offense a week ago, he was somewhat pleased with the defensive unit.
"While fresh, I thought defensively we played pretty well. One of the big measuring sticks for a defense is . . . how many big plays you allow. We were fairly limited on that a week ago. In our measuring we gave up two big plays, so if we can continue to keep those at a minimal place, then I think you'll see our defense continue to grow. We need to limit Colorado State's big play players this week," Blankenship added.
For the Colorado State defense, the Rams have a beast in the interior defensive front in the likes of 6-3, 330-pound Calvin Tonga, while right defensive end Shaquil Barrett and strongside linebacker Cory James are very active on the outside for the Rams. Barrett had eight stops and 3.5 TFLs last week against Colorado, while James totaled nine tackles.
The Tulsa-Colorado State game will be televised nationally on CBS Sports Network.