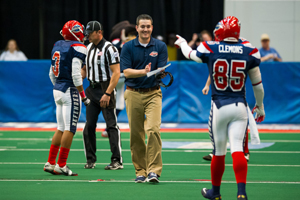 After finishing 3-9 in their sophomore season the Oklahoma Defenders began taking steps to improve by announcing that they will retain the services of head coach Derek Rasmussen for the 2014 season.
Rasmussen coached the team to an even 12-12 record in two seasons in two different indoor football leagues and he has been the team's first and only head coach since the team was formed in 2011.

Rasmussen also was a quarterback for the Tulsa Talons arena football team in the mid-2000s.
Coach Rasmussen has been assembling his coaching staff for the 2014 campaign and he has named Steve Perdue to the position of defensive coordinator, replacing owner Lamar Baker who retired from coaching at the end of last season to enter the Defenders front office.
Perdue has over 10 years of experience with indoor football as both a player and coach.  He was a standout defensive back and safety with the Oklahoma Crude of the NIFL prior to entering coaching with the Amarillo Dusters in 2004.
Perdue led the Dusters' record-setting defense before transitioning to the Head Coach in 2005.  He continued to make headlines as the Head Coach of the Amarillo Dusters, becoming the first AF2 expansion team to make it to the playoffs.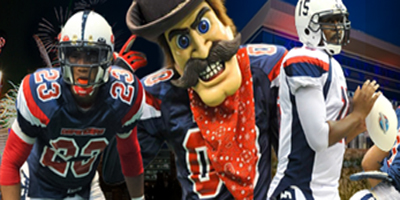 "I am excited to join the Oklahoma Defenders family and team." Perdue said, "This is a great football town, and I am thankful for the opportunity to help Coach Rasmussen bring a Championship to Tulsa."
Coach Rasmussen had high praise for his new assistant.   "Coach Perdue brings years of great indoor/arena experience to the table.  He's a huge addition to our staff and I'm extremely excited to start working with him."
The Oklahoma Defenders are holding open tryouts on Saturday, September 28th at Lafortune Stadium, located at 5840 South Hudson in Tulsa.  Registration to try out begins at 4:30 pm at the stadium.  The Defenders have also kicked off their season ticket sales for next season, and information on purchasing tickets can be obtained by visiting www.oklahomadefenders.com.
The 2014 season for the Oklahoma Defenders will begin in the spring.