U.S. Sen. Jim Inhofe (R-Okla.) released the following statement late yesterday afternoon correcting false information in robo calls to Oklahomans.  The misrepresentations were issued by the TeaPartyPatriots.org.
"You have heard or are going to hear from a group making automated phone calls in Oklahoma implying that I will be voting to fund ObamaCare. This is wrong. Let me assure you that I will be voting this week to defund ObamaCare with my friend Sen. Ted Cruz in his current efforts in the Senate. Now is our opportunity to deal with this disastrous law, and this law has got to go.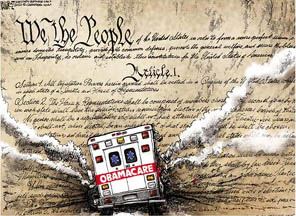 "I have been clear on my position on ObamaCare from the beginning, and it is a shame that an organization would seek to raise money with my name and a false accusation," Inhofe added.
Inhofe was an original co-signer of Sen. Mike Lee's (R-Utah) letter to Senate Majority Leader Harry Reid (D-Nev.) stating that he and 11 other Republican colleagues will not support a continuing resolution that funds further implementation or enforcement of ObamaCare.
A copy of the letter can be read by clicking here.
Inhofe is also a co-sponsor of Sen. David Vitter's (R-La.) amendment to end exemptions for White House political appointees and subsidies for Members of Congress and their staff enrolled in ObamaCare's health insurance exchanges.
President Obama thinks Republicans, "are just messing with me" when they stand for the Rule of Law and against America's destruction.