Gallup has posted an analysis today by Elizabeth Mendes showing historical data that details the repercussions of past conflicts on funding government ranged from none to short-lived, in terms of Americans' concerns about the U.S. and the political players involved.
The 1995/1996 closure, which occurred when — just like today — Republican leaders in Congress and a Democratic president failed to agree on the budget, did little to impact Americans' views of President Bill Clinton, Speaker of the House Newt Gingrich, Congress itself, the U.S. economy, and the country in general in the months after the shutdown began.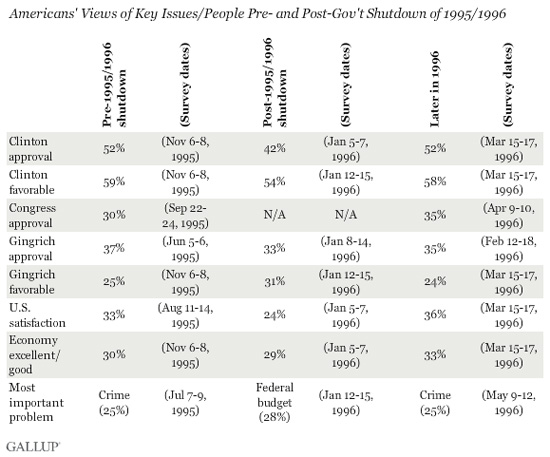 Before the U.S. government shutdown on Nov. 14, 1995, President Clinton's job approval stood at 52%. It dipped to 42% in an early January Gallup survey, but bounced back up to 52% by mid-March. His favorable rating took even less of a hit, falling just five percentage points to 54% in mid-January 1996 — after the second shutdown ended — from 59% in early November. And, his favorability climbed back up to 58% in mid-March 1996.