CBS TV4 in Minnesota is reporting that Adrian Peterson's 2-year-old son, who had been in critical condition after being beaten, has died from his injuries, according to Sioux Falls police.
Peterson was in Sioux Falls on Thursday, visiting the boy who police said had been allegedly beaten severely by the man who the mother of the boy is dating.
The child that Peterson was seen with this fall at training camp is not the 2-year-old who has died.
Joseph Robert Patterson, 27, was arrested in the case and is expected to be charged in the coming days with aggravated assault and aggravated battery of an infant, in addition to murder.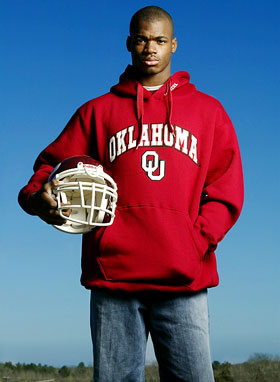 Police said Patterson hit the boy in the head with a steel rod. Paramedics found the child in grave condition.
"(Adrian Peterson) has our prayers and support from this football team," Minnesota Vikings Coach Leslie Frazier said.
During an impromptu press conference at Winter Park, Peterson said he will be playing on Sunday, and asked for privacy over the situation.
"This is a private matter, and I ask y'all to please respect my privacy and not ask at all about the situation at hand," Peterson said.
Tulsa Today Editors:  Adrian Peterson is well remembered and well loved in Oklahoma not just for his football skills, but for his character, generosity and spirit.  Many friends he has never met will keep him and his family in their prayers during this tragic time.