Dozens of people were killed when Islamist rebels besieged the Christian towns of Saddad and Haffar in Syria. As churches, homes and schools were looted and destroyed, 2,500 families fled, while 3,000 people, including children, were held as a human shield for a week.
Militants from the al-Qaeda-linked al-Nusra Front stormed Saddad and Haffar on Monday 21 October shouting "Allahu Akhbar" ["Allah is great"]. They set up sniper posts and launched a campaign of shelling, killing anyone they found in the streets. Children were crying in fear as the militants took over the towns.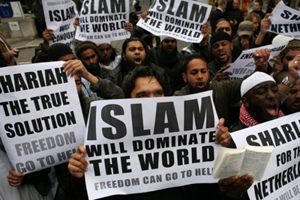 One of Barnabas Aid's partners in Syria said, "1,500 families were held as hostages and human shield for a week, amongst them children, old men, young men, and women. Some of them fled… some were killed and some were threatened by the bullet, by strangulation, execution and with the destruction of their houses."
Estimates of the number of Christians killed during the siege of Saddad and Haffar range from 45 to 70; children were among the dead.
Homes, businesses, schools and other public buildings, including the hospital, were looted and destroyed; 14 church buildings were attacked and graffitied with insults against Christianity.
Thousands fled the violence, many with just the clothes on their backs. Those who took money, documents or other valuables were robbed.
Our partners helped Christian families to evacuate to neighboring villages, the central city of Homs and the capital, Damascus. Barnabas sent funds to provide transport, blankets, food parcels and other essentials. We are helping 500 families in Saddad and 68 in Haffar.
On Monday 28 October, government forces recaptured Saddad and Haffar, enabling people to return. They came home to a scene described as "catastrophic" by one of our partners. Almost 40 bodies had been dumped in mass graves and had to be dug up to be identified. Around half of the buildings in Saddad had been destroyed;there was no power, water or telephone connection. The Christian population is in dire need.
Before the Islamist siege, the towns had been relatively safe and hundreds of internally displaced families had sought refuge there. The Christians had lived peaceably with their Muslim neighbors for decades and harmonious relations have continued during the civil war, even with the arrival of Christian families from elsewhere.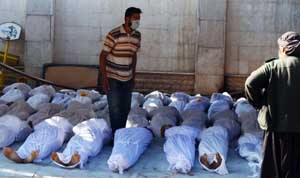 Saddad, a town that is mentioned in the Bible (as Zedad; Numbers 34:8; Ezekiel 47:15), and Haffar are around four miles apart; they are situated between Homs and Damascus.
Dr Patrick Sookhdeo, International Director of Barnabas Aid, said, "What has happened in Saddad and Haffar is utterly horrific, and yet this massacre has barely featured in the Western media. Is the murder of dozens of Syrian Christians so inconsequential? It is clear that our brothers and sisters in Syria need our help more than ever as their plight is ignored and they run out of refuges from the Islamist storm that is battering their communities."