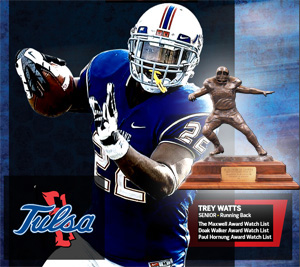 Fans have a vote in selecting the 2013 Burlsworth Trophy Winner and nominated this year, Trey Watts of the University of Tulsa.
The Burlsworth Trophy is given to the most outstanding collegiate football player who began his career as a walk-on.
Trey Watts, the third-ranked rusher in school history, came to Tulsa as a walk-on and was put on scholarship prior to his red-shirt sophomore season.


Fans are limited to one vote per day, and the voting will conclude Sunday, Nov. 24, at midnight CST.
The Fan Vote counts as 5 percent during each round of voting, and it is combined with the results from the Selection Committee.
Fan Vote totals are cleared after each round.