Iran's supreme leader, Ayatollah Ali Khamenei, claimed victory over the United States Sunday shortly after a historic nuclear agreement was reached in Geneva between the Islamic Republic and the 5+1 world powers the Daily Caller is reporting.
Under the agreement, Iran, in return for sanctions relief, will keep much of its nuclear infrastructure, is limited to enriching uranium to the five percent level for six months, will convert its highly enriched uranium of 20 percent to harmless oxide and will allow more intrusive inspections of its nuclear plants by the International Atomic Energy Agency, which will be limited to only agreed-on facilities.

Fars News Agency, the media outlet of the Revolutionary Guards, reported that Khamenei in a statement thanked President Hassan Rouhani and his negotiating team for their achievement in Geneva.
"I thank God that… the new government… was able to legitimize the Iranian nation's nuclear program on the international stage and take the initial step in a way that the nuclear rights and the enrichment rights of the Iranian nation are acknowledged by world powers where before they had tried to deny them, and (the agreement will) open the way for future big strides in technical and economic progress," Khamenei said.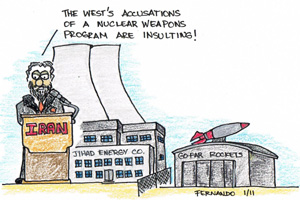 Rouhani, speaking at an event for families of "martyred" Iranian nuclear scientists, said Iran will continue its nuclear progress. "No matter whether the world wants it or not, this path (to nuclear capability) will, God willing, continue to the peak," he said.
Read more on this story from the Daily Caller by clicking here.