If you like traveling, life on Freedom Ship, the world's first floating city, may sound perfect.
There's only a couple of hitches – it's not built yet, and it's going to look a lot like a multi-story parking garage when it is, but the designers have released computer animation of what they hope the mile-long vessel will look like in a story posted by The United Kingdom's Mail Online.


It would have enough room for 50,000 permanent residents within its 25 floors and boasts plans for schools, hospitals, art galleries, shops, parks, an aquarium and a casino. It would even have its own airport on the roof, with a runway serving small private and commercial aircraft.
Roger M Gooch, director and vice-president of Florida-based firm Freedom Ship International, said: 'The Freedom Ship will be the largest vessel ever built, and the first ever floating city.'
His company is trying to raise the billions needed to turn the dream, which has been several years in the planning, into an ocean-going reality.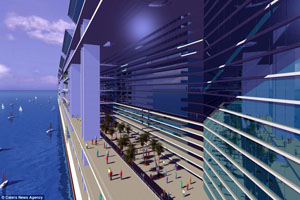 'In the last six months we've been getting more interest in the project and we are hopeful we will raise the $1billion (£600million) to begin construction," Gooch said.
The ship would spend 70 per cent of its time anchored off major cities and the rest sailing between countries. It is too large to enter any port.
If completed, the floating city will be 750ft at the beam, 350ft high and 4,500ft in length – four times longer than the Queen Mary II cruise ship which measures 1,132ft in length.
To read more from Mail Online and view the video click here.