It's that bustling time between Thanksgiving and Christmas (Christ's Mass), our nationally recognized and congressionally "established" birthday celebration for Jesus, the sovereign Lord of all mankind. Now is a valuable opportunity to reflect upon our nation's past, present and future (our true past, not the historically revised version propagated by secular-"progressives").
First, for the public school-educated: No, Thanksgiving was not about high-fiving the Indians for corn on the cob. In his 1789 Thanksgiving Day Proclamation, George Washington made abundantly clear exactly Whom America should thank, and why.


Washington began by declaring that "it is the duty of all nations to acknowledge the providence of Almighty God, to obey His will, to be grateful for His benefits, and humbly to implore His protection and favor" so that a special day might "be devoted by the people of these States to the service of that great and glorious Being who is the beneficent author of all the good that was, that is, or that will be; that we may then all unite in rendering unto Him our sincere and humble thanks for His kind care and protection of the people of this country" as well as "for the civil and religious liberty with which we are blessed."
Oh, how times have changed.
That, while "acknowledging with grateful hearts the many and signal favors of Almighty God," continued Washington, America might "unite in most humbly offering our prayers and supplications to the great Lord and Ruler of Nations" in a concerted effort "to promote the knowledge and practice of true religion and virtue."
You with me, Supreme Court?
Now, lest there be any confusion as to the identity of "the great Lord and Ruler of Nations" to Whom Washington referred, President John Adams, Washington's successor, ordered, in 1799, a day of "solemn humiliation, fasting, and prayer," wherein he proclaimed that Americans should, "on that day abstain as far as may be from their secular occupations, devote the time to the sacred duties of religion in public and in private: That they call to mind our numerous offenses against the most High God, confess them before Him with the sincerest penitence, implore His pardoning mercy, through the great Mediator and Redeemer, for our past transgressions, and that, through the grace of His Holy Spirit, we may be disposed and enabled to yield a more suitable obedience to His righteous requisitions in time to come."
"Separation of church and state"?
Not so much.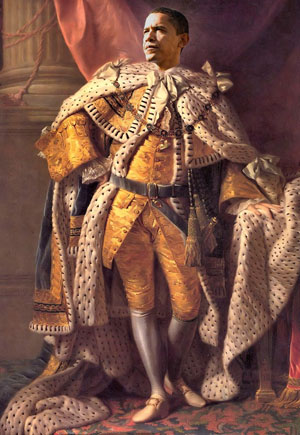 I know. Calm down, atheists. It wasn't a theocratic dictate requiring that you bow your knee before Jesus. Christians don't force conversion. After all, contrary to Barack Hussein Obama's claim otherwise, we are not a "Muslim country" – yet. It was just a firm suggestion. As for bowing before Christ, God will see to that later.
Imagine if anti-Christian outfits like the ACLU or the so-called "Freedom From Religion Foundation" (FFRF) had been around back then. At a time when Americans' freedoms were protected under an authentic First Amendment application, these counter-constitutionalists would have been laughed out of town (or worse) upon their first frivolous "Establishment Clause" lawsuit.
Still, George Washington's myriad "declarations of American dependence" upon God were not all sunshine and fuzzy bunnies. Many took on a decidedly somber tone, clearly intended to warn both his patriotic contemporaries and, most especially, future generations.
America's reluctant first chief executive sought to forestall the predictably devastating consequences of a national break from America's Judeo-Christian moorings.
In fact, during his Farewell Address, Washington spoke of exactly the kind of subversive, anti-theist provocateurs who make up the aforementioned ACLU, FFRF, et al. He called them unpatriotic. He underscored the critical role religion and morality play to our national survival and, though he did not specifically identify them as such, warned of secular-"progressives" like Barack Obama – a man who, exposed as a serial liar, would later bring great shame upon the noble office Washington first held.
"Of all the dispositions and habits which lead to political prosperity," declared Washington, "Religion and Morality are indispensable supports. In vain would that man claim the tribute of Patriotism, who should labor to subvert these great pillars of human happiness, these firmest props of the duties of Men and Citizens. … [R]eason and experience both forbid us to expect that national morality can prevail in exclusion of religious principle."
Regrettably, Washington's parting words exemplify, to a great extent, the current state of affairs in the very government he helped to bring about.
"Let it simply be asked," he warned, "'where is the security for property, for reputation, for life, if the sense of religious obligation desert the oaths which are the instruments of investigation in courts of justice?"
Where indeed? Not only have our courts of justice abandoned any "sense of religious obligation," they increasingly seek to subvert "we the people's" very freedom to exercise such obligation.
Is it any wonder, then, that, with a government that weaponizes the IRS, brushes off the gross moral failings of our public servants and facilitates the brutal slaughter of tens of millions of its most vulnerable citizens – security for property, reputation and life has disappeared?
Continued Washington: "It is substantially true that virtue or morality is a necessary spring of popular government. The rule indeed extends with more or less force to every species of free government. Who that is a sincere friend to it can look with indifference upon attempts to shake the foundation of the fabric?"
That "necessary spring" of "virtue and morality" has run dry. A "constitutional right" for sodomy-based "marriage"? – a sin both Washington and the criminal codes called an "infamous crime"? Seriously? A government mandate that Christians fund your abortion homicide, despite a non-negotiable biblical command to do no such thing? Are you kidding?
The foundation has fractured. The fabric has frayed.
In 1788, eight years prior to his Farewell Address, Washington wrote: "[T]he [federal] government … can never be in danger of degenerating into a monarchy, an oligarchy, an aristocracy, or any other despotic or oppressive form so long as there shall remain any virtue in the body of the people."
We are in danger. As our national virtue melts away, it strains credulity to deny that we are entering, as Washington warned, a dark era of American despotism. Like water to the gulch, such despotism pervades in the absence of religion and morality.
And as history has shown, the despotic nation is not long for the world.