Tulsa, Oklahoma –– The American Athletic Conference announced today the league match-ups for the 2014 football season. Tulsa moves into The American on July 1, 2014 following nine years as a member of Conference USA.
In conference games, Tulsa will host East Carolina, SMU, South Florida and Tulane, while the Golden Hurricane travels to face Houston, Memphis, Temple and UCF. Non-league games include home opponents Oklahoma and Texas State and road foes Colorado State and Florida Atlantic.


"We have in front of us an exciting and challenging schedule for the 2014 season," said Tulsa Head Coach Bill Blankenship. "Obviously, our home schedule is extremely attractive with the likes of Oklahoma coming to Chapman Stadium, and our first American Athletic Conference schedule presents our first-ever game against South Florida, continuing series' with East Carolina and Tulane and renewing of a rivalry with SMU."
"The road schedule is just as challenging with the renewal of the series against Fiesta Bowl Champion UCF. Tulsa fans know how good UCF can be from our regular season and conference championship games against the Knights in 2012," said Blankenship. "Houston is always tough, and Memphis and Temple showed flashes last year of how good they can be this season."
"In our two road non-conference games, we remember how tough an opponent Colorado State was at home this past year, and they turn in a really good season that resulted in bowl victory. FAU fared well in Conference USA play last year and it will be good to begin a 2-game series with them," added Blankenship.
Tulsa played East Carolina and Tulane in the 2013 season as members of Conference USA, both games on the road for the Hurricane. Tulsa will also renew series rivalries with former C-USA members SMU, Houston, Memphis and UCF.
South Florida will be a first-time opponent for the Hurricane, while Tulsa and Temple will square-off for the third time in school history and the first time since the 1988 campaign as Tulsa leads the series against the Owls 2-0.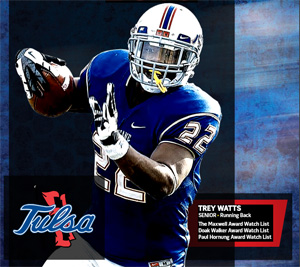 Tulsa faced SMU, Houston and UCF in the 2012 season, while the Hurricane defeated the UCF Knights twice, including a 33-27 victory in the Conference USA Championship game. Tulsa and Memphis last played in the 2010 campaign as Tulsa captured a 48-7 road victory.
The Hurricane will play a total of six 2013 Bowl participants in the 2014 campaign. American opponents East Carolina (Beef O'Brady's Bowl), Houston (BBVA Compass Bowl), Tulane (R&L Carriers New Orleans Bowl) and UCF (Fiesta Bowl) along with non-conference foes Oklahoma (Sugar Bowl) and Colorado State (New Mexico Bowl) played in Bowl games this past season.
2014 OPPONENTS
Home Games
East Carolina*
SMU*
South Florida*
Tulane*
Oklahoma
Texas State
Road Games
Houston*
Memphis*
Temple*
UCF*
Colorado State
Florida Atlantic