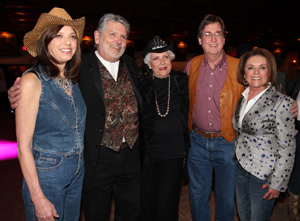 Barry & Buddies delivered an evening of music and celebration at the historic Cain's Ballroom and raised more than $35,000 for The Higher Scale Program in late February.
The evening honored Signature Symphony at TCC Artistic Director and Conductor Dr. Barry Epperley for his accomplishments over the past three decades to the performing arts and arts education in northeast Oklahoma. Epperley will retire at the end of this season, but another very special event is coming soon.
Epperley will also be honored during a black-tie event, Give Our Regards to Barry, with special guest artist Bernadette Peters and the Signature Symphony on Thursday, May 22. More information about Give Our Regards to Barry is available online by clicking here.
For information on sponsorship opportunities for the Give Our Regards to Barry event, please contact Eileen Kenney with the TCC Foundation Office at 918-595-7844
918-595-7844 or by email Eileen.kenney@tulsacc.edu.
The money raised from Barry & Buddies and Give Our Regards to Barry will help support Epperley's passion of quality arts entertainment and education through The Higher Scale Program, which allows professional Signature Symphony at TCC musicians to teach viola, violin and cello lessons twice a week to third, fourth and fifth grade students at 12 Tulsa Public Schools. Higher Scale and other music education outreach programs directly impact thousands of public school students who receive free music instruction from Signature Symphony musicians.
Presenting sponsors for Barry & Buddies were WPX Energy, OK2Grow and Mollie Williford. AVB Bank; Broken Arrow Performing Arts Center Foundation; KOTV; KRMG; Dr. Frank and Mary Shaw; Tulsa People and Tulsa Community College are major donors.
First Photo From Left: Victoria Bartlett, Signature Symphony at TCC Artistic Director and Conductor Dr. Barry Epperley, Barry & Buddies Presenting Sponsor Mollie Williford, Tulsa Mayor Dewey Bartlett, Barry & Buddies Event Chair Mary Shaw.