Young professionals Mike and Katie Corey and John McClure knew they wanted to work in the senior care industry, but they also wanted to do something that could really make a difference in their community.
That's why the three joined to open Caring Transitions of Tulsa, which launched earlier this March.

The business specializes in moving and relocation services for older adults who are moving to a smaller home, back in with their children, or into a retirement community. The company can handle full and partial liquidations, staging homes for sale, interviewing potential realtors, setting up belongings in a new home, estate sales, online auctions and more. Caring Transitions of Tulsa serves Tulsa, Jenks, Bixby, Glenpool, Broken Arrow and Sapulpa in Oklahoma.
"Mike and I were both working in the medical equipment field and, with the changes in healthcare, we thought it might be time to go in a difference direction. We knew we wanted to continue working with seniors and, when we started talking about Caring Transitions, it just made sense. This business is going to allow us to positively impact our community by offering a better level of care than a standard moving company. I'm looking forward to a career that makes a real difference for people every day," John said.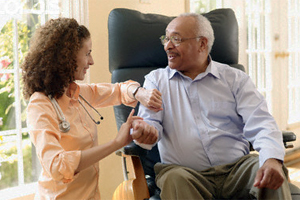 Before opening Caring Transitions, John, 27, owned his own diabetic supply company and spent time working in medical equipment marketing. His co-owners Mike Corey, 31, and Katie Corey, 28, also have experience working with seniors. Mike spent the last seven years with Lincare, first as a marketing representative and, most recently, as the district manager over North Texas. In this role he oversaw six branches that cared for thousands of patients with chronic respiratory disease.  His wife, Katie, has a degree in pre-nursing and has worked for a retirement community and as a private caregiver for families in Enid.
"Katie and I were looking into franchises last fall and we found there was a real need for the services Caring Transitions can provide in this community. I understand the situation personally too. My grandmother is at the point in her life when she's starting to worry about how she's going to deal with her place and all of her belongings, so seeing what Caring Transitions offered really made sense to me," Mike said.
Founded in 2006, the Caring Transitions franchise has been a trusted and highly respected national company leading the way in senior moving, household liquidations and estate sales management in dozens of cities across the United States. Caring Transitions is part of the International Franchise Association, the Small Business Association's Franchise Registry, VetFran and Minority Fran.
Each Caring Transitions employee is a Certified Relocation & Transition Specialist, a designation bestowed by an independent organization that evaluates providers of senior relocation services. They are trained, bonded and insured.
"I think it's important for the people in our community to see that they have someone they can trust with a job like this. Moving a senior or clearing out a home can be an especially sensitive time, but we are here to alleviate some of the burdens and stress so you can focus on your family. It doesn't have to be a terrible experience on your own. We are here to help," Katie said.
For more information about how Caring Transitions of Tulsa can help a family, call (918)948-6872
(918)948-6872 or visit www.CaringTransitionsTulsa.com.