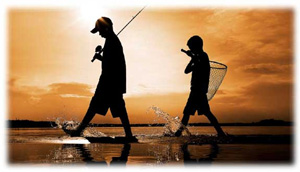 GROVE, Okla. (April 1, 2014) – The Bass Federation (TBF) and FLW, the world's largest tournament-fishing organization, will host a Student Angler Federation High School Fishing Open on Grand Lake in Grove, Okla., April 12.
The tournament will be held in conjunction with the TBF National Championship, and will offer high school anglers the chance to meet some of the country's top bass anglers and experience the intensity of the TBF National Championship while testing their own bass-fishing skills against their peers.


The Oklahoma High School Open is a two-person (team) event for students in grades 9-12 open to students from any state. Registration for anglers and their coach, who will provide and drive the boat from which they compete, is open online at HighSchoolFishing.org.
Participation is free for all Student Angler Federation Members. Students who are not yet SAF members will pay a $25 membership fee that includes eligibility to fish SAF tournaments at no charge; insurance coverage for students and their bass-fishing club, school and volunteers; advancement opportunities from local and state events to national events offering scholarships; a digital subscription to FLW Bass Fishing magazine; access to free online fishing education courses; and much more.
High School Anglers will take off from Wolf Creek Park located at 963 N. 16th St. in Grove, Okla., at 6:45 a.m. Saturday. The weigh-in will be held at the takeoff location beginning at 2 p.m. Takeoffs and weigh-ins are free and open to the public. Teams should register online at HighSchoolFishing.org or a $25 late-registration fee will apply to those who register on-site.
The top three High School Fishing teams will be recognized on the Walmart FLW Tour stage at the John Q. Hammons Center in Rogers, Ark., at 4 p.m. on Sunday, April 13 as part of the Tour's final weigh-in and nationwide FLW Live broadcast.
The top three teams from each SAF High School Fishing Open held this season will advance to a High School Fishing conference championship along with the top 10 percent of each state championship field. The top 10 percent of each conference championship field will then advance to the High School Fishing National Championship coinciding with the TBF National Championship and an FLW Tour stop in the spring of 2015. The High School Fishing national champions each receive a $5,000 college scholarship to the school of their choice.
"High School Fishing provides students with a connection to their schools and an opportunity to explore their passion for the outdoors in a new and exciting way," FLW Vice President of Operations Dave Washburn said. "It allows students to apply science, technology, engineering and math skills acquired in the classroom in a real-world scenario that is unique in high school athletics. It's a win for the students, a win for the schools and a win for the future of fishing and conservation in the United States."
All SAF members nationwide automatically qualify for the world's largest high school bass tournament, the 2014 High School Fishing World Finals. At the 2013 World Finals more than $40,000 in scholarships and prizes were awarded. Visit HighSchoolFishing.org for details.
The Bass Federation Inc., (TBF) is owned by those we serve and dedicated to the sport of fishing. TBF is the largest and oldest, organized grassroots fishing organization. TBF affiliated state federations and their member clubs conduct more than 20,000 fishing, youth and conservation events at the local level each year and have provided a foundation for the entire bass fishing industry for more than 40 years. Visit Bassfederation.com.