Danny Manning has announced his resignation as The University of Tulsa's head basketball coach, according to TU's Vice President & Director of Athletics Derrick Gragg. Manning is expected to be named the head basketball coach at Wake Forest University.
Manning compiled a 38-29 record in two seasons as the Golden Hurricane head coach. He guided Tulsa to a 21-13 overall record and 13-3 Conference USA mark this past year. Manning led Tulsa to a share of the C-USA regular season title and captured the league's postseason tournament championship, thus advancing to the NCAA Tournament.


"The University of Tulsa men's basketball program has enjoyed two years of incredible growth under head coach Danny Manning, and we congratulate him on this next step in his career," said TU President Steadman Upham. "Danny has been a committed member of the TU family. He has led by example, instilling integrity and building success among our student-athletes. It is no wonder Danny has been nominated for coach-of-the-year honors and that he has chosen to further his professional life with an institution such as Wake Forest, which has exceptional academic credentials and a rich tradition of excellence in college basketball. We wish Danny and his family all the best in his new endeavor."
"In his two seasons, Coach Manning has helped elevate our basketball program to a level that our fans expect –– conference championships and NCAA tournament appearances," said Gragg. "There's no question that the reputation of Tulsa basketball, our recent success and the student-athletes in the program will be attractive to the most qualified coaches."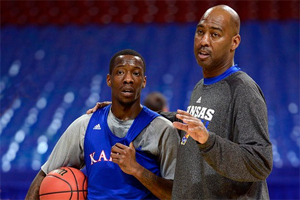 "Under President Upham's leadership, the presentation made to Coach Manning in recent contract negotiations was an attractive and competitive offer," said Gragg. "President Upham is committed to return Tulsa basketball to an elite level. The commitment he has displayed in this recent process is second to none that I have encountered during my 21 years as an athletic administrator."
"We expect our basketball success to continue," said Gragg. "With the type of student-athletes that we have in our basketball program, I know that they will rally and work even harder to further the success that they achieved this past season in elevating Tulsa basketball even more."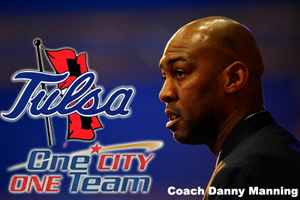 For Tulsa's accomplishments this past season, Manning was named the 2014 Gene Bartow Conference USA Coach of the Year. In his first year, Manning guided the Hurricane to a 17-16 mark and an appearance in the 2013 College Basketball Invitational (CBI).
The University of Tulsa has begun the process of pre-screening candidates for the coaching vacancy and is in the process of retaining a search consultant. No definitive timeline for the announcement of Tulsa's new head basketball coach has been established.