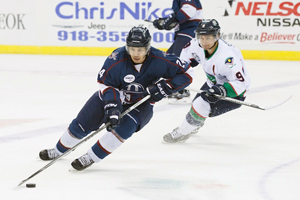 The Tulsa Oilers kicked off the final month of the off season on Saturday afternoon at the BOK Center with an open house for the fans that included the announcement of the signing of six players to the Oilers 2013-14 roster.
The Oilers announced the signing of defensemen Craig Cescon and Eric Tallent, goaltender Ross Mackinnon, and returning players Gerome Giudice, Patrick Schafer and Michel Beausoleil.

Last season, his 12th as a pro, Michel Beausoleil scored 20 goals and recorded 20 assists to reach the 40-point plateau for the 11th consecutive season.  The 33-year old right-wing has appeared in over 700 professional games and ranks sixth on the Oilers all-time list of games played with 271.  Beausoleil, 5-10, 195-pound native of Montreal, netted his 300thcareer goal last year and registered his 400th CHL assist.
"I know I'm getting a little older, but I still know I can play at a high level and help this team," remarked Beausoleil.  "Tulsa has been home for many years and with all the positive changes taking place around the organization, I think we have a great shot this year to win a lot of games."
Oilers head coach Bruce Ramsay had high praise for his veteran forward.  "Bobo (Beausoleil) has been a consistent performer for me since I took over here in Tulsa," said Ramsay,  "He's got a great shot, he's extremely reliable on the penalty kill and he's still a scoring threat.  We're glad to have him back and I know all of our fans love the guy."
Joining Beausoleil at forward is Patrick Schafer.  Schafer, a 5-10, 188-pound center, arrived in Tulsa in January of last season and scored a goal in his first game as an Oiler.  He went on to appear in 28 games for the Oilers and finished the 2012-13 campaign with four goals and seven assists.
Prior to his time in Tulsa, Schafer, an Ohio State University product, played for the Arizona Sundogs and Missouri Mavericks.  During the 2011-12 season with Missouri, Schafer posted a career-high 27 points (12 goals, 15 assists) and was a key contributor during the Mavericks' playoff run.
"I think at times we showed that we could be a good team last season, but we had some key injuries and came up short," Schafer said.  "Now I think this is a fresh start for everyone and I know we're going to have a competitive team that can make a deep run in the playoffs.  We've got an unbelievable arena and the fan support in Tulsa is amazing so there's no reason why we can't succeed this season."
Rounding out the returning players for the Tulsa Oilers is forward Gerome Giudice.
Giudice spent the 2011-12 season with the Oilers and returns to Tulsa after playing last season for the Coventry Blaze in England and Pontebba in Italy's Serie A.  In his 28 games for the Oilers, Giudice, a versatile 24-year old forward, posted 17 points (3 goals, 14 assists) and ranked fourth on the team with 74 penalty minutes.  A 5-11, 212-pound Ontario native, Giudice also played for Bruce Ramsay during the 2008-09 season with the Muskegon Lumberjacks.
"Gerome is a skilled two-way player who also brings an element of toughness that was lacking at times last season," commented Ramsay.  "Having coached Gerome in the past, I always know what I'm going to get out of him every night.  He'll bring great effort and a great work ethic to our team."
"This is my fifth year pro and I'm still searching for a championship," Giudice said about his return to Tulsa.  "I want to win a title and with this team the Oilers are putting together, I think we really have a chance.  We came up short two years ago so there is definitely some unfinished business for me here.  I've always liked the town and the fans here so I'm very happy to give this another shot."
While the new players Coach Ramsay signed to the team haven't worn the Oilers sweater before, at least two of the three remaining players have CHL experience.
Entering his seventh season as a pro, Craig Cescon is very familiar with the CHL.  In the 2010-11 campaign, Cescon appeared in 60 games for the Fort Wayne Komets and the following season, he suited up for 64 contests with the Bloomington Blaze.
In those seasons, Cescon, a 6-2, 200-pound blue-liner, led his team with 174 and 180 penalty minutes respectively.  He also spent two years with the Idaho Steelheads (ECHL) and returns to North American hockey after a stint last season with the Braehead Clan (EIHL).
"Landing Craig was a big deal for our team because he's big, he's physical, and he has the ability to get opposing players out of their comfort zone," said Ramsay.  "He's a player that our fans are really going to love because he hits, he fights, and he can really provide some energy for the rest of our guys."
The dispersal of the Fort Worth Brahmas when they suspended operations at the conclusion of last season paid off in the signing of Eric Tallent.  Tallent joins Tomas Klempa who was signed from the Brahmas earlier in the summer.
Tallent, a Garland, Texas native, matched up against the Oilers last season as a member of the Fort Worth Brahmas.  Before turning pro in 2010, the 6-0, 195-pound Tallent was a defensive standout at Norwich University in Vermont.  In his senior season of 2009-10, Tallent recorded 20 points in 29 games and helped lead the Cadets to the NCAA Division III National Championship.
"My coach in Fort Worth (Dan Wildfong) told me a lot of really good things about Coach Ramsay and what they had going on in Tulsa," said Tallent.  "It seems like a great situation with a lot of really talented players so I'm hoping to come in and really play the role of a defensive defenseman who can stop the other side's top forwards."
"Eric comes very highly recommended and I really liked what I saw when I watched him play last season," Ramsay commented.  "I need guys who I can rely on in our own zone to be smart with the puck and be in the right position at all times.  I believe Eric is that type of player."
Scoring forwards and tough defensemen are a plus but s solid goalie between the pipes is the thing that brings things all together.  Joining returning goalie Shane Madalora in the Oilers goal crease this season will be second year goalie Ross Mackinnon.
MacKinnon is fresh off an SPHL Championship with the Pensacola Ice Flyers.  During last season's playoff run in Pensacola, MacKinnon posted a 6-1 record in seven games while allowing only nine goals and finishing the postseason with a 1.24 goals against average.
The 26-year old netminder was named the SPHL playoff MVP and was selected to the SPHL All-Rookie Team.  As a freshman at Neumann College, MacKinnon backstopped the Knights to the 2009 NCAA Division III National Title and was named the MVP of the Frozen Four.  A product of Manchester, Connecticut, MacKinnon gained CHL experience last season on a nine-game call-up with the Bloomington Blaze.
"This kid has had unbelievable success everywhere he's played and there's no reason why he can't be a great goaltender at this level," said Ramsay.  "His numbers are extremely impressive and I can't wait to see what Ross can do."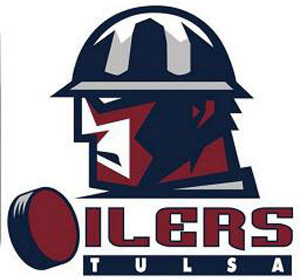 "I'm excited for this opportunity because I just want to keep moving up in my career," MacKinnon noted.  "I was in Single-A, got called up to Double-A with Bloomington and I think that experience really prepared me well for what I'm going to face at this level.  I've been working really hard in the off season to get better so I'm looking forward to seeing that work pay off and help the Oilers win."
The Oilers open training camp on Monday, October 7 at the Oilers Ice Center (64th and Mingo) and begin their 22nd season of hockey on October 18 in Denver.  Tulsa plays its home opener on Saturday, October 26 against the Allen Americans.