DENVER, CO.—For the first time in the 2014 Central Hockey League playoffs the Tulsa Oilers are now down by one game as the Denver Cutthroats bested them in overtime 3-2 at the Denver Coliseum on Wednesday night.
J.P. Chabot scored the game winner at the 12:18 mark of the 20-minute playoff overtime period to give his team the win and a two-games-to-one first-round series lead.  There will be two more games in Denver, on Friday and Saturday night and if the Oilers win just one game in the Mile High City it will force a game six in the BOK Center next Tuesday night.

After a scoreless first period Cutthroat forward Troy Schwab scored to give Denver a 1-0 lead.  It carried over to the third period when Ben Gordon re-directed a Ryan Barlock shot into the Denver net behind goalie Kent Patterson with a shade over five minutes remaining in the game to knot the score at 1-1.  Blair Macauley then connected after pulling Patterson off balance with a nifty move to give the visitors a 2-1 lead at the 17:39 mark.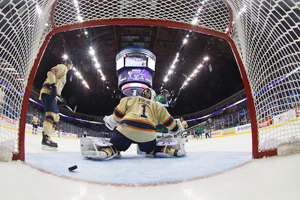 The lead was short lived because with a little more than a minute remaining to knot the score at two and force overtime.  All games are decided in normal gameplay in the playoffs, and that gave way to the heroics of Chabot to give Denver the lead in the series which has become a very tight one considering the domination of the Fish over the Oilers in the regular season.
Despite outshooting the Cutthroats 9-3 in the extra frame, the Oilers were unable to beat Patterson who finished the night with 40 saves on 42 shots.  Cutthroats blue-liner Steve Kaunisto fired toward the Tulsa net at 12:18 and Chabot, who planted himself in front of Madolora was able to get a piece of the puck and put it home.
Complete jubilation for the Cutthroats, heartbreak for the Oilers.
The hill now gets steeper for Tulsa and, while they still have a decent chance, the panic level is getting to the sweat stages.  The positives gleaned from this is that the Oilers did manage to do something that they pulled off a number of times this season, which is come from behind and give themselves a chance to win games.  Unfortunately, the Fish are in playoff mode, and it will take a tripled effort on the part of Bruce Ramsay's young team to overcome the obstacles.
The series resumes on Friday night at 8:05 pm Tulsa time from Denver.  Fans can log onto the internet broadcast at www.tulsaoilers.com or attend the official team watch party at the Fox & Hound Restaurant located just north of 71st & Garnett.