The weather is getting warmer, and that means it's time for Tulsa Shock basketball.
On Saturday May 17, 2014 the Shock will begin their fifth season in the WNBA with Fred Williams, the former head coach of the Atlanta Dream as coach. He replaces Gary Kloppenburg, relieved of his duties in mid-October 2013.
Fred Williams spent six seasons with the Atlanta Dream (2008-2013) and was part of a coaching staff that won three WNBA Eastern Conference Championship titles (2010, 2011, 2013).
Williams became the Dream's Head Coach during the 2012 season and led Atlanta to the WNBA Finals in 2013. Williams served as an assistant and Head Coach at the University of Southern California (USC) from 1983-90 and 1994-97. Williams helped guide the 1983-84 USC team to back-to-back NCAA titles. Williams spent four seasons rebuilding the former WNBA team Utah Starzz starting the first season (1998) as an assistant and the next three (1999, 2000, 2001) as the Head Coach. From 2003-2004, Williams spent two seasons with the former WNBA team Charlotte Sting as an assistant.
Williams was upbeat at his press conference in January.
"I am honored to be your Tulsa Shock coach," said Williams, "I'm looking forward to building a close relationship with the Tulsa community and the loyal fans that are hungry to become future champions. I am very excited about cming to Tulsa to continue helping our Shock players towards their highest achievements as a team and work hard with our ownership group and management to become one of the best organizations in pro sports."
He will be assisted by former Los Angeles Sparks assistant coach Bridget Pettis, who was hired in March.  In 2013, Pettis was an assistant coach for the Los Angeles Sparks. Pettis was also an assistant coach with the Phoenix Mercury from 2006 to 2009 and won two WNBA Championships in 2007 and 2009. Pettis later served as director of basketball operations for the Mercury from 2010 to 2011. As a player, Pettis played in the WNBA for eight years and was selected in the first round (seventh overall) in the 1997 WNBA Draft by the Phoenix Mercury. Pettis played for the Mercury for six years (1997-2001)(2004-2006). She also played for the Indiana Fever for two seasons from 2002 to 2003. She finished her playing career with a total of 1,408 points playing in 228 games.
Pettis was complimentary of her new city and her head coach when she was introduced.
"Thank you to the city of Tulsa and the Tulsa Shock organization for this amazing opportunity to help build a championship team," said Pettis. "I'm excited to assist Coach Williams in working with the players to become a strong and focused team. Through hard work and commitment we will make this team something for the city to be proud of. I'm honored to be in Tulsa."
Coach Williams is confident in his assistant as the season approaches.
"Bridget Pettis is a true person and a talented coach," said Williams. "With her combined wealth of basketball knowledge, experience and expertise both in coaching and as a former WNBA player, I am confident she will help us towards the winning level. She is a coach who understands player development and being a champion."
Together it will be their job to reverse the fortunes of the Tulsa WNBA team, that since moving from Detroit as a two-time former WNBA title winner in 2003 and 2006, has struggled to gain a winning foothold in their new home town. Since the move from Michigan the Shock have amassed an abysmal 21-107 record, with no playoff appearances.
Coaches Williams and Pettis have their work cut out for them, but Tulsans are cheering them on.
Draft day was kind to Tulsa
For two seasons in a row the Tulsa Shock have enjoyed a high position in the WNBA draft and for the second year in a row, the Shock nailed a keeper. Last season they drafted a potential WNBA superstar when they took Notre Dame guard Skylar Diggins with the third pick, and this year, in possession of the second pick in the draft Coach Williams and his staff nabbed Baylor forward Odyssey Sims.
At Baylor, Sims was a first team all-American, scored 28.5 points per game and was the Bears all time leader in assists with 642. She also nabbed Baylor's all time lead in three-pointers and the best resume bullet point, which was being a member of the 2012 NCAA Women's Basketball Champions. Sims and Diggins will be a powerful back-court force for the Shock if they are utilized correctly.
Tulsa also took Jordan Hooper from the University of Nebraska and Theresa Plaisance from LSU in their 13th and 27th picks in the draft.
Hooper, a forward from Nebraska, finished her career averaging 20.4 points per game, 9.1 rebounds per game and shot 43.7 percent from the field. Hooper is one of two Big Ten players in history with 2,300 points and 1,100 rebounds.
"Theresa will help us in the post position with her ability to run the floor and block shots," said Fred Williams, Head Coach of the Tulsa Shock. "She is tremendous rebounder, and works hard on defense."
"Plaisance is a big post who has been All-SEC First-Team as a junior and senior," said Steve Swetoha, President of the Tulsa Shock. "She gives us an additional presence in the post area at 6'5" and comes from a great conference in the SEC."
Hopes high going into camp.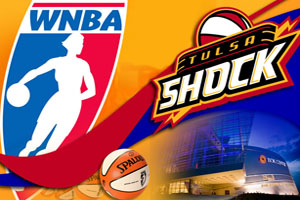 With all of the changes to the Shock at the coaching level and through the draft, the integration of all of these parts look, at least on paper, like the 2014 Tulsa Shock may have one of the best teams since the move. It's the third time that the Shock have had to remake themselves since their debut as a re-branded WNBA team and though the fans are very supportive and enthusiastic, overall their patience is starting to wear thin for good things to happen, and it goes beyond just posting a winning record.
At present, the only confirmed player returning for the 2014 season is former OU Sooner Courtney Paris, but a good core of players is expected to don the yellow and black including Angel Goodrich, Jennifer Lacy, and Riquna Williams. Glory Johnson, who dazzled the crowd at the WNBA All Star game last year with a dunk, and 6'8" Australian center Elizabeth Cambage is also expected back for her fourth season as a Tulsa Shock.
Training camp will begin on April 27th at Edison High School.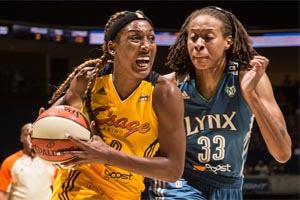 The WNBA preseason for Tulsa begins on May 2nd with a home-and-home series against the San Antonio Silver Stars concluding on Tuesday May 6th in San Antonio. Nine days after that, they will plaqy a game that counts in the season opener on May 17th.
The home opener for the Shock is on Friday May 23rd when they host the 2013 defending champion Minnesota Lynx. Single game tickets are now on sale at the BOK Center box office and at wnba.com/shock.