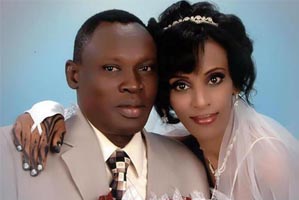 On Thursday, May 14, 2014, a Sudanese judge sentenced Meriam Ibrahim to death. Her crime? She's a Christian. Raised as a Christian by her Christian mother, the judge ruled her an apostate – a crime punishable by death in Sudan – simply because her father was Muslim.
According to Fox News and ABC News, Meriam is pregnant, and the death sentence will be carried out after she gives birth. Between the birth and her execution, she is also to receive 100 lashes.
Faced with torture then death, Meriam has remained courageously steadfast. The Sudanese judge gave her three days to recant her faith, but she refused, declaring that she was "never a Muslim" and was "raised Christian from the start." Meriam is facing death for her faith.
Fox News is reporting that Ibrahim, 26, who is eight months pregnant, was sentenced to death last Thursday. The court in Khartoum delayed carrying out the ruling until Ibrahim gives birth and nurses her newborn.
In the interim, she has been spending her days bound with shackles on her legs according to her husband, U.S. citizen Daniel Wani, a Christian, who was able to visit his wife for the first time on Monday.
"He originally was not allowed to see her until this week," Tina Ramirez, executive director of Hardwired, a U.S.-based advocacy group against religious persecution, told FoxNews.com. "Once he was able to, she was shackled and her legs were swollen."
Ramirez added that Ibrahim's attorney is working on an appeal as international outrage over her persecution grows.
"The [Sudanese] government is afraid of the international attention," Ramirez said. "They are paying attention and this [statement] is a sign of that."
Click here for more from Fox News.
ABC News is reporting that Amnesty International called the court's ruling "truly abhorrent." The organization's Sudan researcher Manar Idriss said that "adultery and apostasy are acts which should not be considered crimes at all. It is flagrant breach of international human rights law."
Western embassies in Sudan including the U.S., Canada, the United Kingdom and the Netherlands also echoing that sentiment issued a joint statement expressing "deep concern" about the case and urged Sudan to respect the right to freedom of religion.
Amal Habany, a political activist in support of women's rights,  said "The court has no appearance of justice or respect for freedom of choice in ones beliefs, personally and individually."
The judge told Ishaq, "We gave you three days to recant, but you insist on not returning to Islam. I sentence you to be hanged to death." Officially her crime is apostasy.
Click here for more from ABC News.
You can help.  An effort organized by the American Center for Law and Justice called the "Be Heard Project" is available online.  Click here for more and how you can help.