A brightly branded box truck and pickup truck are rolling advertisements for Tulsa Habitat for Humanity's efforts to build homes, communities and hope. Donations from Apache Corporation mean the trucks also demonstrate the advantages of using clean, abundant and U.S.-produced compressed natural gas (CNG) as a transportation fuel.
Tulsa Habitat converted the Ford box truck to run on CNG in 2013 after receiving a grant from Apache, an oil and gas exploration and production company with extensive operations across Oklahoma and regional offices in Tulsa. Apache also donated a Chevy Silverado pickup from its surplus inventory after one of Habitat's trucks was stolen.
Apache today (May 28) announced that its 2014 Community and Neighborhood Giving program will provide CNG conversion kits to nonprofits, municipalities, government agencies and institutions of higher education in the Tulsa area and – for the first time – institutions in the Oklahoma City area. Complete rules for the program and applications, which must be submitted by June 27, are available at www.apachecng.com.
"Our goal is to enable nonprofits and other agencies to enjoy the economic and environmental benefits of natural gas transportation as they pursue their community-focused activities," said Rob Johnston, executive vice president of Apache's Tulsa-based Central Region.
"Apache has produced oil and gas across Oklahoma since the company was established in 1954, and we are committed to improving the quality of life in our communities by producing affordable energy resources in a safe and environmentally responsible manner, providing good jobs and supporting local institutions," Johnston said. "We believe Oklahoma is in a great position to lead the way and show the rest of the country that natural gas is the preferred alternative transportation fuel because it's abundant, affordable and produced here at home."
"Both the box truck and the pickup truck are used primarily by our ReStore thrift shop team," said Paul Kent, Tulsa Habitat's executive director. "The box truck is used to pick up donated items from both residential and commercial sites; these items are then re-sold in our store."  ReStore sales proceeds help Habitat be more self-sustaining. Net sales from the ReStore are equivalent to six or seven home sponsorships.
"We have been able to use the pickup truck for transporting volunteers to house build sites and to increase our capacity for handling larger deconstruction projects because of its towing capacity," Kent said. "For the first time, we have a vehicle that we are proud for our entire Habitat team to use when out in public representing Tulsa Habitat with donors and potential partners."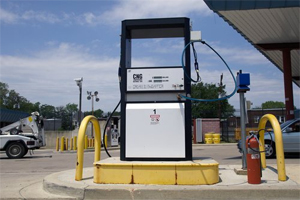 Habitat is saving $350 to $400 per month on fuel costs for the two vehicles – money that can be put to work building houses, Kent said.
Since 1988, Tulsa Habitat has provided over 300 families with the opportunity to own their own homes. Between July 1, 2013 and the end of June, 21 families will become owners of Tulsa Habitat homes.
"Corporate support of Tulsa Habitat over the years is one of the reasons for our success," Kent said. "Nearly 50 companies have been part of sponsoring homes and probably that many have brought volunteer groups out to help build homes with us. Apache's donation of the CNG conversion of our box truck and the 2010 Silverado have made it easier for us to do business. We are saving money on fuel, and we have reliable transportation. Apache has brought out teams of people fall 2013 and just a few weeks ago to volunteer on a build site."
Apache Corporation is an oil and gas exploration and production company with operations in the United States, Canada, Egypt, the United Kingdom and Australia.