A brand-new patriotic musical. Amazing Christian bands. Inflatable games and face painting. Unforgettable, jaw-dropping, eye-popping fireworks. It's all available at Rockets Over Rhema 2014  as the Rhema Bible Church hosts a great patriotic celebration on Sunday, June 29.
Rockets Over Rhema, has been held on the beautiful 110-acre Rhema campus since 2003 and features one of the area's biggest and best fireworks displays.  In 2013 the Broken Arrow police estimated that more than 55,000 people attended.
Festivities kick off at 5 p.m. with a patriotic tribute, the brand-new musical Route 66: The Red, White, and Blue Tour. 
Come along as three different musical acts "tour" America in the '50s. You'll laugh, tap your toes, and learn a few things about
our nation's history as you travel along the music of Route 66.
The excitement continues outside at 6:00 p.m. with heaps of fun-filled activities for the entire family. Kids will enjoy bouncing and sliding on the inflatable games and getting fancied up at the face-painting booths, and the young (and young at heart) can test their ability to hang on to a mechanical bull.
For those more into looking than participating, guests can stroll through the Rockets Over Rhema Jim Glover Chevrolet Car Show.  For food, we've got you covered! There will be plenty of concessions to enjoy. Back Street BBQ, Burgers, & Kings Table
will be cooking up some of the best hamburgers, hot dogs, and barbecue. Looking for festival food?  Funnel cakes, popcorn, cotton candy, and snow cones will be served.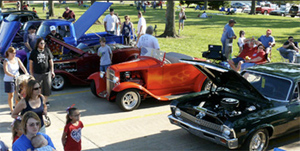 The concert will begin around 6:30 p.m. with music from Christian artists Plumb (presented by Jim Glover Chevrolet), The Vespers, About The Author, and Synergy.
Around 10:00 p.m. the performers finish and the pop, pop, Ba-BOOMs of the grand finale begin. Grab a blanket or lawn chair or just sit on the grass and ooh and aah at one of the largest fireworks displays in the metropolitan area.
Schedule of Events
• 5:00 p.m.—Patriotic Musical
• 6:00 p.m.—Outdoor Activities Begin
• 6:30 p.m.—Outdoor Concert
• 10:00 p.m.—Fireworks
Rhema Bible Church is located at 1025 W. Kenosha Broken Arrow, Oklahoma.  For more information, click here for RocketsOverRhema.com.