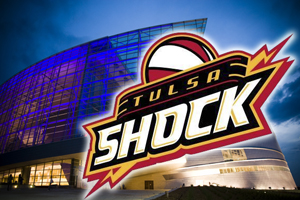 Odyssey Sims stepped out as a superhero on Friday night as she led the Tulsa Shock (1-5) with a career-high 21 points to a 94-78 victory over the Phoenix Mercury (5-2) in front of 4,976 in the BOK Center.
It was the Shock's first win this season and it was a win over a quality opponent who had handed them a double-digit defeat in their arena a few weeks ago.

Diana Taurasi of the Mercury was the only better player on the score sheet with 21 points.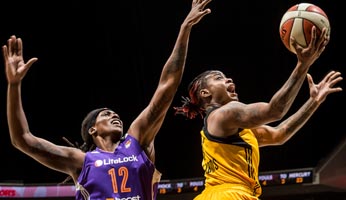 Skylar Diggins led the Shock with nine assists and also contributed 20 points. Her nine assists were a record for the most assists against Phoenix by a Shock player, beating the previous record of eight, held by four players, including Diggins.   Riquna Williams tied a career-high five steals against the Mercury. She has now had 5 steals three times.
Four Shock players scored over 15 points – Sims (21), Diggins (20), Williams (17) and Johnson (16).  For Phoenix, three players scored in double figures – Taurasi (22), Penny Taylor (13) and Mistie Bass (11).
For Shock head coach Fred Williams, it was all a matter of his girls getting their act together.
"It's been a learning process for us, ever since we started the season. I said it'd kick in one night, and tonight it really kicked in for us with a combination of guards really getting after it defensively. I thought the defense really set the tone for us."
The Shock, who trailed by one point after the game's first 10 minutes, took off on a 21-4 run in the second frame to lead Phoenix 50-33 at the half.   The 50 points the Shock put up in the first half is the most they've scored in a half all season.
The game featured only two lead changes, and after the Mercury battled back with a 22-17 third quarter, the Shock held on with solid defense to win their first game in the 2014 campaign.
The Shock continue their five-game home stand with their first meeting with the New York Liberty at 7pm Tuesday night in the BOK Center.