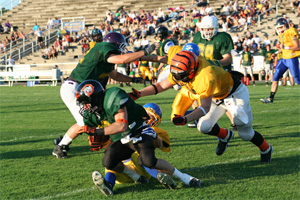 (Miami, OK) – The City of Miami's Convention & Visitors Bureau in conjunction with Northeastern Oklahoma A&M College and the Oklahoma Eight Man Football Coaches Association will host the 2014 Oklahoma 8-Man All Star Football Week in Miami.  Eighty of the top players from across the state will arrive in Miami on June 17 for a full week of activities leading up to the Green vs. Gold Showdown that will take place at 7 p.m. on Saturday, June 21.
The game will be played on Red Robertson Field on the campus of Northeastern Oklahoma A&M College.  The game will be the first non-local event to take place on the new field turf surface which is a part of a multi-million dollar renovation to the sports facility.  Twenty coaches representing the Oklahoma 8-Man Football Association (OEMFCA) will guide and train these players throughout their weeklong stay in Miami leading up to this All-Star Event.
The All-Star Game was designed to reward and honor the finest players.  Nearly 4,000 fans from across Oklahoma are expected to attend the game with college recruiters and scouts also in attendance.  In addition to the game, the All-Star event provides scholarships for the players.  A total of ten, one thousand dollar scholarships will be awarded to football players at the annual banquet on Friday, June 20.
The event is organized by the Miami Convention & Visitors Bureau (CVB) and the Oklahoma Eight Man Football Coaches Association.  Corporate Sponsors for this event are Touchstone Energy Co-Op Partners, Miami CVB, The Brace Place and the Oklahoma Center for Orthopaedics/Dr. Sean O'Brien.  Additional event sponsors include PlayLand Lanes, City of Miami, Miami News Record, Allen Sign Studio, NEO Football, Coleman Theatre, Miami Friends Church, Russell Athletics, NEO A&M College, Miami Rotary Club, Miami Lions Club, Miami Kiwanis Club, Miami Schools, Tote Along, Gary Crow, Dr. Mark Folks, Peoria Ridge Golf Course, The Coleman House Restaurant/Buffalo Run Casino, Alert Services and the Miami Fire Department.
This year, twenty-six All-Star Cheerleaders from across the state will be on hand to cheer on both teams.  The girls were nominated by their cheer coaches and selected by a committee to participate in the game.  The All-Star Cheer Team will perform at halftime of the game.  They will also be recognized at the Awards Banquet.  Two senior cheerleaders will each receive a $500 scholarship from the OEMFCA.
"The City of Miami could not host this event without the support of our sponsors and volunteers" stated Miami CVB Executive Director Amanda Davis.
"Miami has a great team of volunteers that work to make events successful.  8-Man football week in Miami is a really big deal.  It is an event that is high priority for our staff.  We anticipate that more state level events will make their way to Miami with the improvements being made the stadium at NEO.
Miami has a bright future in sports tourism" Davis added.
Cost for the game is $5 per person.  Game Merchandise and concessions will be available. Gates at NEO A&M College will open at 5:00 p.m. Click here for www.VisitMiamiOK.com.