President Obama announced on Monday evening that US ground troops 'equipped for combat' are being sent to Iraq – just days after claiming that no American soldiers would be deployed. He told Yahoo! News correspondent Katie Couric that drone strikes also 'may well be' an option in the coming days
In a letter to Congress, the president said American troops will be returning to Iraq only three years after they left and their deployment began on Sunday.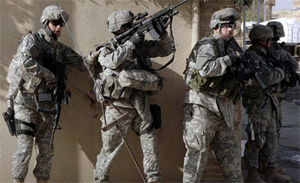 However, Obama said that their only purpose will specifically be to protect US personnel and the US Embassy in Baghdad – and not join in the fierce fighting raging outside the Iraqi capital.
The Daily Mail highlights:
President Obama announced that American troops are being deployed to Iraq
Returning nearly three years after the United States withdrew in 2011
Deployed to protect American personnel and embassy staff in Baghdad
This comes as John Kerry says Washington is 'open to discussions' with Tehran about military cooperation
Just a year ago, Obama was weighing ever-tougher sanctions against Iran's mullahs
ISIS captured Tal Afar, a key northern town along the highway to Syria, early on Monday, with a population of 200,000 people
The U.S. Navy has sent yet another ship into the Persian Gulf, this time to carry Osprey combat helicopters
Click here for more from The Daily Mail.