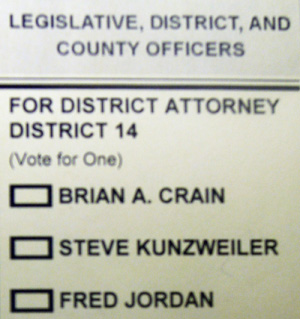 The Tulsa County Election Ballot next Tuesday June 24 will list in order, Brian A. Crain, Steve Kunzweiler and Fred Jordan, but one has withdrawn and the court will decide who is eligible – an interesting twist in this race to become Tulsa County's top defender of Law and the Oklahoma Constitution.
Article V, Section 23 of the Oklahoma Constitution reads: "No member of the Legislature shall, during the term for which he was elected, be appointed or elected to any office or commission in the State, which shall have been created, or the emoluments of which shall have been increased, during his term of office."
House Joint Resolution 1096, which passed the Legislature May 23 and was signed into law by Gov. Fallin June 3, increases the salaries of district judges and districts attorneys throughout Oklahoma.
Monday District Attorney Candidate and current Tulsa County prosecutor Steve Kunzweiler held a news conference to announce that he had filed a lawsuit for declaration that neither Jordan nor Crain are qualified to hold the district attorney's office and preventing the election board from certifying the outcome of the election if either wins.
Sen. Crain announced soon after passage of Resolution 1096 that he was pulling out of the race. Crain told the Tulsa World, "(My withdrawal) has nothing to do with whether I had anything to do with helping to get (HJR 1096) passed," Crain said. "I didn't even know it existed until Thursday. I didn't support it or unsupport it."
"It's a tough position (for the voters) to be in, because I would be in a lawsuit at the time of the election," Crain said. "I didn't want to do that … I don't want to leave Tulsa without a DA if I'm elected and then later ruled ineligible," Crain added in the Tulsa World interview.
In an exclusive interview with Tulsa Today, Jordan said, "I fully believe that this does not affect me because I am at the end of my House term. My term will expire in November following the general election. My District Attorney term will not start until January. In fact, the election will not even be certified for District Attorney until the first week in January. So "during the term for which I was elected" expires before the time I would take over as District Attorney. That is the distinction between me and Sen. Crain as he has two years remaining."
Asked if saw he this dispute coming as Majority Leader Jordan said, "No. This came up the last few days of the Legislative Session. I think part of the confusion here is that the Legislature did not initiate this pay raise – the Judicial Compensation Board did. They met last fall and recommended a 12 percent pay raise for all judges. The Legislature only had three options; 1.) They could have done nothing and the administrative action of the Judicial Compensation Board would have gone into effect, 2.) They could have rejected it in whole, or 3.) The Legislature could amend it. What the Legislature did was amend and drop the recommendation from a 12 percent to a 6 percent raise.
"I have researched the issue. I have studied the law. I am confident. This issue is just a distraction. I fully believe and understand the law to be on my side and I feel good about it," Jordan continued.
"When the resolution was voted on in the House, I claimed my Constitutional Privilege not to cast a vote for or against. The reason I did that is because I am running for District Attorney so I didn't want to be involved in that vote," Jordan said.
The petition filed by Kunzweiler reads, ""The facts set forth … render both Jordan and Crain constitutionally prohibited from being elected to the office of Tulsa County District Attorney.
"The election of a constitutionally prohibited candidate … would call into question and subject to legal challenge every official act taken by the newly-elected Tulsa County District Attorney beginning January 1, 2015," the petition summarizes.
At press conference, Kunzweiler said, "The actions of the Oklahoma Legislature – of which Jordan is a Majority leader – put me in this position. I took an oath of office to uphold the Oklahoma Constitution. It is my duty and my obligation to raise this issue and to resolve it," Kunzweiler said.
In an interview Tuesday morning with KFAQ's Pat Campbell Kunzweiler said, "I have reviewed the Constitution and the law and asked other specialists in election law to review this issue and all have come to the same conclusion that neither Sen. Brian Crain or Rep. Fred Jordan are eligible to be elected June 24 for District Attorney. I cannot then stand back and ignore the truth and am duty bound to raise this issue with the Court."
Kunzweiler added, "I do not expect the ruling before the election, but as a District Attorney, my job is to support the Constitution."
Click here to listen to the KFAQ podcast with Steve Kunzweiler on KFAQ.
A candidate is given a certificate of election by the appropriate election board — state election board for legislative and district officers, county election board for county and municipal officers.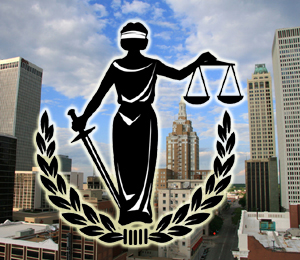 According to 26 O.S. 8-108, those certificates would be issued at 5 p.m. Friday after the general election, barring any contest that would affect race. Since the last possible vote will happen on August 26, any recounts or contests will have been resolved long before November 7 at 5:00 pm, when the State Election Board will issue a certificate of election, 12 days before the end of Jordan's term as a member of the State House.
Jordan is gathering his legal arguments and preparing to defend his position.