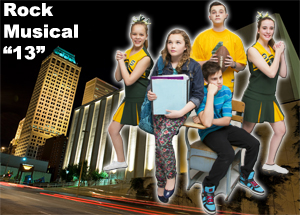 Theatre Tulsa's production for the Tulsa Performing Arts Center's SummerStage Festival will be "13," a rock musical presented as part of the theatre's Theatre Tulsa Family series.
"13" follows young teen Evan Goldman as he deals with divorcing parents, moving to a new school and an upcoming bar mitzvah while he and his friends live through the joys and trials of modern adolescence. Although it has serious themes, "13″ is also a hilarious, high-energy musical for both teens and their parents.

The show, which debuted in 2007, features music and lyrics by Tony Award winner Jason Robert Brown and book by Dan Elish and Robert Horn.
"I was involved in a production of '13' at a church in OKC. For all the youth involved it was a profound, moving experience," said Sara Phoenix, artistic director at Theatre Tulsa. "I've always wanted to bring that same opportunity to Tulsa youth.
"The play's themes center on the challenges teenagers face and how important it is to make the right choices, to rely on your friends and family and to stay true to yourself. More than anything, '13' shows the power of theatre to provide a creative outlet for expression."
"13" is a Theatre Tulsa Family production created by the theatre's Broadway Bootcamp educational program. Broadway Bootcamp is designed to develop teen performers' musical theatre skills by the highest industry standards. The course covers auditioning, vocal music, choreography, and other essential performance skills.
The cast stars Alden Fuller, Alexis Wyers, Amanda Aurigemma, Avery Scott, Axyl Langford, Becca Worthington, Caroline Price, Cherilynn Wheeler, Denver King, Elizabeth Treloar, Emma Petherick, Ericka Maupin, Erika Ralls, Hannah Main, Jet Armstrong, Jon Paul Aday, Katherine Patz, Knox Blakely, Lauren Bowman, Maddie Brown, Madeline Addis, Malia Ryan, McKailey Holt, Nathan Keiner, Olivia Orr, Paige Minnich, Rocky Main, Ryan Rule, Sydney Smith and Tyler Whitehead.
The show is directed by Jeremy Stevens, with choreography by Ashleigh Brooke Gibson, Sara Phoenix and Jay Prock.
Theatre Tulsa's production of "13" runs for one weekend only, July 11-13, in the Williams Theater of the Tulsa Performing Arts Center.
For tickets, go to www.myticketoffice.com or call 918-596-7109.
For questions or more information about Theatre Tulsa and its upcoming shows and programs, visit theatretulsa.org, call 918-587-8402 or email info@theatretulsa.org.