American Theatre Company presents a comedic romp into the world of the fantasy role-playing game Dungeons and Dragons with the show, "She Kills Monsters."
"In a time before Facebook, Worlds of Warcraft, and multiplayer online RPG's, there once existed simply a game, Dungeons and Dragons. Forged by the hands of nerds, crafted in the minds of geeks, and so advanced it would take a whole second edition to contain all its mighty geekery…. Here in the land of Ohio during the year of 1995 one of the rarest types of geeks walked the earth."

She Kills Monsters tells the story of Agnes as she leaves her childhood home in Ohio following the death of her teenage sister, Tilly. Finding Tilly's Dungeons & Dragons notebook, Agnes stumbles into a journey of discovery and action-packed adventure in the imaginary world that was Tilly's refuge. In this high-octane dramatic comedy laden with homicidal fairies, nasty ogres, and 90s pop culture, acclaimed young playwright Qui Nguyen offers a heart-pounding homage to the geek and warrior within us all.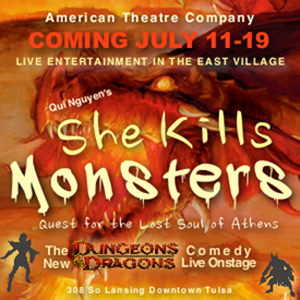 She Kills Monsters also marks the opening of the first theatrical production at American Theatre Company's new facility in Tulsa's newest district, The East Village Downtown Tulsa. Located at 308 South Lansing this 6,000 plus foot multi use space is the new home of ATC with offices, classrooms, rehearsal studios and performance space.
The opening of She Kills Monsters will coincide with the East Village's monthly Second Saturday Street Festival. This celebration of art, music, food, food trucks and classic cars takes place on Saturday July 12 in the East Village. The street fair runs from 4:00 PM to 10:00 PM. ATC celebrates 2nd Saturday by performing Monsters at 5:00 PM and 8:00 PM.
The cast includes ATC regulars; Chris Hunter (Of Mice and Men), Mvnte July (Bomb-itty of Errors among many others), John Tom Knight (Speech and Debate), Matt Lindsey (Never Ending Story), Sloopy McCoy (Any Day Now), Bailey Workman (A Midsummer Night's Dream) and Ashley Workman (Never Ending Story).
Also in Monsters and new to American Theatre Company are Jack Allen, Bevin Ver Brugge, Chris Hunter, Jabari Jackson, Sarah Kelly, Katie Mayhall, Jalexa Schell. The production is directed by Robert Walters, with scenery by Richard Ellis, lighting by Edward Durnal, puppets and D&D costumes by Richie Goss, costumes by Jacon Harbour and sound by Aaron Veale and Keith Slane.
Monsters should not to be missed by someone who was, or has known someone who, spent their happiest hours as, or with, a certain kind of dungeon master. The production runs from July 11 to 19. For Second Saturday, American Theatre Company presents Monsters twice. A matinee takes place at 5:00 PM and then an evening performance at 8:00 PM. Curtain time for evening performances are at 8:00 PM. General admission tickets are $15 with $10 tickets for students and seniors. For tickets go to MyTicketOffice.com or call 918-596-7111. For more information contact ATC at 918-747-9494.