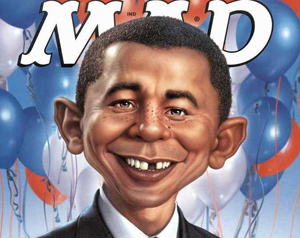 The Daily Mail provides coverage of what they call, "Obama's monsters ball: How the White House opened its doors to some of Africa's most evil dictators and homophobes and turned blind eye to their human rights record."
President Barack Obama drew the diplomatic line somewhere at the first ever U.S-Africa summit at the White House this week by not inviting Zimbabwe's brutal dictator Robert Mugabe. But the guest list still included several other African leaders with only slightly better human rights records.
The White House promoted the summit as the largest-ever gathering of African leaders in the United States, with more than 50 countries represented.
The red carpet was rolled out for Equatorial Guinea's Teodoro Obiang Nguema Mbasogo, who shot or jailed virtually all his political opponents, Gambia's Yahya Jammeh, who threatened to 'cut off the head' of any homosexuals in the country and for Cameroon's Paul Biya, who has the dubious honor of ranking 19th on author David Wallechinsky's 2006 list of the world's 20 worst living dictators.
Many of the leaders were later photographed in the White House, posing for individual portraits with Obama and the First Lady.
The President's opening speech avoided the prickly issues of homophobia and torture and instead sought out similarities between the two continents.
He opened with: 'I stand before you as the president of the United States, a proud American. I also stand before you as the son of a man from Africa'.
Before going on to say: 'Our faith traditions remind us of the inherent dignity of every human being and that our work as nations must be rooted in empathy and compassion for each other, as brothers and as sisters.'
The Daily Mail illustrates over nine of the most controversial leaders who enjoyed the lavish affair.