TULSA, OK—It was a night for the Shock history book on Friday night.
A crowd of 6,990 saw the Tulsa Shock hand the San Antonio Stars a 79-62 defeat on their last home game of the 2014 season and in doing so, posted the 12th win which is now the best record the Shock has had since they called the state of Michigan home.
Once again, the rookie from Baylor led the way. Odyssey Sims put in 22 points leading both the Shock and the Stars on the score sheet. Sims made three buckets from behind the arc in the third quarter that helped the Shock take command of the game and never look back. It was her sixth straight game where she scored 20+ points. She also added four assists.
Sadly, Sims sustained a shoulder injury of unknown severity with just under two minutes to go, left the game and did not return.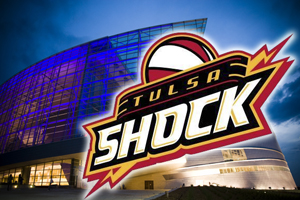 Courtney Paris put up her twelfth double-double of the season, scoring 11 points and grabbing 11 rebounds. Glory Johnson tied Cheryl Ford's franchise record of seventeen double-doubles with 14 points and 12 rebounds.  Skylar Diggins scored 14 points to go along with her team-leading 8 assists.
It was one of the best games that the Shock have played in the BOK Center, as well as a fairly typical one where they started slow, trailed at the half, and battled hard to get the win. It was also one of the loudest games that the Shock played, and it was not lost on Tulsa head coach Fred Williams.
"We had a great crowd here tonight that really cheered us on to a good home court victory." Williams said after the game. "We had to step it up in the second half and get the loose balls and win the battle on the boards. The first half, we had a lot of easy shots get away from us. I told them at halftime to hang in there. We were down by one. We just wanted to take the same looks and keep being aggressive defensively."
With victories on Friday night over San Antonio, and a 96-90 win over Los Angeles last Tuesday the Shock are very close to achieving another first in the team's history since relocation: a playoff berth. It's mathematically possible that Tulsa could get into the WNBA's Western Conference playoffs through the back door, but it all boils down to the Shock winning the season out.
Ahead for the team is a season-ending road trip that begins on Sunday in Seattle, travels to Atlanta next Friday night and finishes up in Minnesota next Saturday.