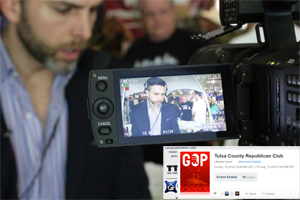 Tulsa Live Events has provided video of the debate between Tulsa County district attorney candidates Fred Jordan and Steve Kunzweiler Friday at the Tulsa County Republican Club.
While the daily newspaper notes the candidates "shared some tense moments over whether the state reduced funding to county district attorneys' offices;" funding was not the only issue on which they disagreed.
Sen. Brian Crain who withdrew from the race after the Oklahoma Legislature passed an increase in salaries for district attorneys statewide – which with two years remaining on his term, was then prohibited by the Oklahoma Constitution from election – served as moderator of the debate.
A dispute over eligibility and the definition of "election" in the Supreme Court decision was covered by Tulsa Today and is available online here. Regardless, Tulsa County's next district attorney will be determined by the Republican runoff election Tuesday Aug. 26 as no Democratic candidates sought the office.
Crain opened the debate by identifying himself as the "Miss Congeniality" of the race.
The debate is available below thanks to Tulsa Live Events which streamed the event online.

Trent England, Vice President for Strategic Initiatives, Oklahoma Council of Public Affairs also presented to the group Friday and multiple previous presentations may be found on the Live Event page here.
Fred Jordan previously served as a judge advocate in the Marine Corps before beginning his political career in the Oklahoma Legislature. Steve Kunzweiler, a career prosecutor, is chief of the Tulsa County District Attorney's Office's Criminal Division.