TULSA, OK—It was an long hard win, but a big one for the University of Tulsa Golden Hurricane as it took regulation and two overtimes to lift TU over Tulane 38-31 in front of 19,032 in H.A. Chapman Stadium on Thursday night. The Golden Hurricane earned their first win since they defeated Louisiana Tech on the road last November.
It capped off a comeback in a game where the home side had trailed the entire game.
It took the Golden Hurricane until the middle of the second quarter to hit the scoreboard. TU quarterback Dane Evans connected with wide receiver Keevan Lucas with 7:11 to play in the half on a 43-yard pass to put the home-side on the board, but by that point Tulane already had 14 points on the board. It got crazy eleven seconds later when Green Wave running back Sherman Badie galloped 90-yards to the house to put Tulane ahead 21-7.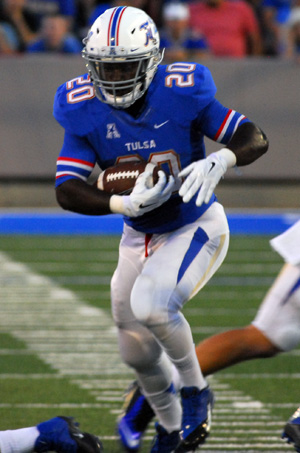 Then the Golden Hurricane responded with some long yardage theatrics of their own after the TU defense forced a Tulane fumble, Evans found his favorite target once again, and Keevin Lucass hit the afterburners racing 84 yards to the Tulane end zone to cut the Green Wave lead to seven at the half 21-14. It was the longest pass play TU had executed since the 2008 season when David Johnson found Brennan Marion on a 97-yard bomb against UTEP.
In the second half, the Golden Hurricane creeped closer to the visitors when kicker Carl Salazar connected on a 42-yard boot with 8:15 to go in the third quarter, and again with 8:31 to go in the fourth to cut Tulane's lead to a single point 21-20. Then Lee hurled a 60-yard pass to Xavier Rush to put the Green Wave ahead by seven with 6:50 remaining, and that set the stage for TU to tie the game with just under three minutes remaining.
Dane found Lewis on a three-yard strike for a touchdown and then connected with Josh Atkinson for the two point conversion with 2:53 to go in the game. Both teams traded field goals in the first overtime, and on TU's first possession in double overtime, Connor Floyd hauled in an 8-yard pass from Evans to give TU their first, and what would turn out to be their only lead in the game.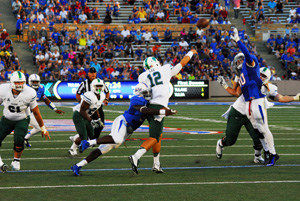 When Tulane had their turn in the second overtime, TU free safety DeMarco Nelson intercepted a Tanner Lee pass in the end zone to end the game. It was a dramatic win for the Golden Hurricane in their first game in the American Athletic Conference.
TU Quarterback Dane Evans marked a career first in Thursday's game. Evans threw for 244 yards on 14-for-21 passing in the first half, surpassing 200-plus passing yards in a game for the first time in his career. Overall he threw 31 completions on 53 pass attempts and two picks.
The sophomore from Sanger, Texas is evolving as a quarterback and he and the rest of the team impressed his coach.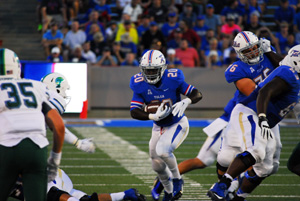 "Dane played better than that, but it's certainly good to get him going." TU head coach Bill Blankenship said after the game. "I think it says a lot for his resiliency and what he's about that he would fight back from what he did a year ago and just work his tail off. I think you saw that we have a good group of receivers that we can throw the ball around and mix it up with and certainly it was good to see No. 1 in the game early. You know I'm talking about Keyarris and then Marco at the end. I think it was very fitting that we started with a big play with Keyarris and ended with a big play with Marco. Those guys certainly mean a lot to us."
One of the defining moments in the game was Dane Evans 84-yard touchdown pass to Keevin Lucas at the end of the first half. It was a "hero moment" that Evans commented on after the game. "It was kind of a risky throw by me." Evans said, "(Tulsa Quarterback Coach) Josh Blankenship tells us to never have hero throws. That was definitely a hero throw.
"I got away with it, and I told him that over the phone. He said that if I can get it, he'll take it. I think the biggest thing was our defense giving us the ball back. The mood in the stadium just changed, and we took advantage of that."
On the subject of heroes, DeMarco Nelson was proud of the interception that sealed the win for the Golden Hurricane.
"Seeing as I played bad, it made it a little better." Nelson said, "I'm just glad we got the win overall. I wasn't really playing with my eyes. I was playing kind of slow. Sitting out here, I've got it out of my system. So I'm just ready for next week."
From here the Golden Hurricane will host the Oklahoma Sooners next weekend at H.A. Chapman Stadium in the first of four straight games in non-conference play.
Photos by Greg Duke, Tulsa Today.